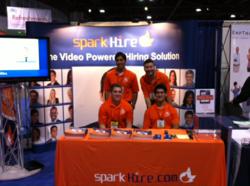 The Illinois SHRM attendees are really going to be amazed with what Spark Hire is providing. - Josh Tolan, CEO of Spark Hire
Chicago, Illinois (PRWEB) August 01, 2012
Spark Hire, the leading video powered hiring solution, announced it will be exhibiting at the 2012 Illinois SHRM Conference & Exposition held at the Drury Lane Theater in Oakbrook Terrace, IL on August 6th and 7th.
"The Illinois SHRM attendees are really going to be amazed with what Spark Hire is providing," said Josh Tolan, CEO of Spark Hire. "We will be showcasing the product and educating HR professionals on how the integration of video can significantly reduce the time, cost, and effort typically associated with traditional hiring methods."
Spark Hire will be located at Booth #401 and will feature video demonstrations including:

Spotlight Interviews: Employers can send a series of questions to candidates who respond with video answers. These interviews can be watched by the employer at their convenience.
Live Interviews: Employers can connect face-to-face with job seekers using their webcam.
Spark Hire will also be raffling away gifts such as t-shirts, coffee mugs and even free iPads! Be sure to stop by to watch one of the demonstrations for your chance to win one of these great prizes!
About Spark Hire:
Spark Hire is a video powered hiring network that connects job seekers and employers through the use of video resumes and online video interviews. Since its launch in February 2012, Spark Hire has expanded internationally and is now helping companies in 22+ countries make smarter decisions on who they advance further along in their hiring process. For more information, please visit SparkHire.com.
About SHRM (From http://www.ilshrm.org)
The Illinois State Council for the Society for Human Resource Management (ISC-SHRM) is dedicated to serving the needs of SHRM chapters in Illinois by representation to the National Society of SHRM and assistance in achieving each SHRM Illinois Chapter's highest potential. The ISC-SHRM promotes professionalism in human resources and adds value to the SHRM membership. The ISC-SHRM Board is made up of volunteer representatives across Illinois who serve to advance the human resources profession.