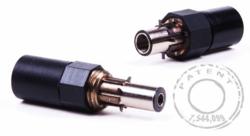 Simple Installation, Incredible Protection
Miami, FL (PRWEB) August 02, 2012
Apple Computers was the first computer manufacturer to offer the MagSafe, a patented magnetic power connector, it became an integral part of their portable computers. The ProtectivePlug is the only equivalent solution for laptops that are not manufactured by Apple Computers.
The Product consists of four sub-assemblies, a plug, latches, a nut and a socket. The installation is simple and requires no technical knowledge. Broken DC-IN jack is the most common issue with laptop computers today. "Anyone that had to go through a DC Jack repair wishes they had the ProtectivePlug installed on their system" said Laptop Jacks, President Mark Godovich. "Well now they can."
Laptop Jacks, Inc., founded in 2005 and located in Miami, FL, offers replacement parts for laptops and netbooks for numerous makes and models. It also offers a wide variety of repair services for computers, laptops, tablets and smartphones. All that experience in the repair business allows them to develop preventive products to prolong the life of electronic products.