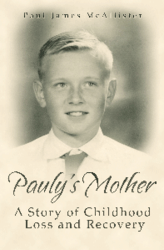 The author tells his story from a child's point of view.
BLUE ISLAND, Ill. –
(PRWEB) August 07, 2012 -- In one word, this story is about healing. Losing his mother when he was 6 years old changed Pauly's life forever. In this new book, Paul James McAllister creates an autobiography that paints a sad, moving, and sometimes humorous story. Reminiscing about growing up Irish Catholic on the South Side of Chicago during the 1950s, the author shares how his mother's death affected him, his older brother Danny and his father Dan.
In "Pauly's Mother: A Story of Childhood Loss and Recovery," the author tells his story from a child's point of view, including the moment when he learns Edythe died after her gallbladder operation. His father tells the family God needed another angel in heaven – Paul's mother. Life becomes bittersweet as Paul spends time with nearby family members as he marks holidays and school events without his mother. Nora McMahon joins the family four years after later, bringing a welcome woman's touch to the family. With her encouragement, Paul gradually begins to talk about his mother, releasing feelings long bottled up.
Lightening the book's sometimes somber mood are humorous stories, such as the shoe store salesman X-raying Paul's feet to be sure his new leather shoes will fit, and the time his dad gave an ailing pet bird some whiskey, making the bird tipsy. The story ends on an upbeat note with Pauly looking forward to becoming a "Man of Leo." Black and white photos of the family bring home the fact that the tales in this story are about real people. The Appendix contains letters Paul wrote to both mothers long after their deaths, adding a poignant ending to this moving memoir.
Author Paul James McAllister started writing "Pauly's Mother" in the fall of 2005, finishing six years later. His poem "That Far Australian Beach" won third place in an online poetry contest Beginnings Publishing sponsored. He also received an honorable mention in the Short Story category for "The Ties That Bind" in the 76th annual Writer's Digest Writing Competition. He lives in Blue Island, Illinois, not far from where he grew up.
----------
For additional information, please visit http://www.paulysmother.com.
Pauly's Mother: A Story of Childhood Loss and Recovery
Paul James McAllister
Dog Ear Publishing
ISBN: 978-1-4575-1047-2 250 pages $14.95 US
Available at Ingram, Amazon.com, Barnes & Noble and fine bookstores everywhere.
About Dog Ear Publishing, LLC
Dog Ear Publishing offers completely customized self-publishing services for independent authors. We provide cost-effective, fast, and highly profitable services to publish and distribute independently published books. Our book publishing and distribution services reach worldwide. Dog Ear authors retain all rights and complete creative control throughout the entire self-publishing process. Self-publishing services are available globally at http://www.dogearpublishing.net
and from our offices in Indianapolis.
Dog Ear Publishing – self-publishing that actually makes sense.