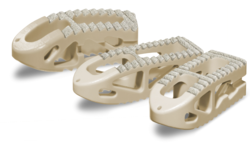 "This is an exciting new technology for application in the spine. It's easy to envision this becoming the new standard for interbody fusion implants." Dr. Scott Kitchel, Spinal surgeon.
Carlsbad, CA (PRWEB) August 01, 2012
Spinal Elements, a spine technology company, today launched its Lucent® Ti-Bond™ line of PEEK interbody implants with a plasma-sprayed titanium porous coating. Ti-Bond titanium porous coating, combined with the outstanding clinical history of the company's Lucent PEEK interbody implants, creates the ideal environment for bone healing during fusion.
Spinal Element's Ti-Bond coating consists of random, unconnected titanium pores, that are biomechanically adhered through a plasma vacuum spray process to the superior and inferior surfaces of its PEEK-OPTIMA® interbody implants. This results in an ideal bone-opposing surface while allowing for direct visualization of the fusion mass through the radiolucent PEEK material.
Many experts believe that Ti-Bond coating, with its strong bond, creates the ultimate marriage between PEEK and titanium. Plasma-sprayed titanium porous surface coatings have been used on orthopedic implants for over 30 years with excellent long-term clinical outcomes.
Spinal surgeon Dr. Scott Kitchel comments, "This is an exciting new technology for application in the spine. It's easy to envision this becoming the new standard for interbody fusion implants."
Jason Blain, president and co-founder of Spinal Elements, adds, "With the launch of our new Ti-Bond product, the spinal device market is taking a great step forward. This launch is one of an extensive line-up of product introductions we will be executing over the next 12 months. The company will also be introducing our first allograft product in October, making Spinal Elements the sole source for spinal surgeons' needs."
Spinal Elements is the first to introduce this technology for posterior lumbar and transforamenal interbody fusion (PLIF and TLIF) devices into the marketplace. Market leaders in this segment include Johnson & Johnson, NuVasive, Inc., Alphatec Spine, Inc., Orthofix International N.V. and Stryker Corporation.
Spinal surgeons are encouraged to contact their Spinal Elements distributor immediately, as anticipated demand for this unique product is expected to be very high. Additional information on Ti-Bond technology can be found on the company website at http://www.spinalelements.com.
About Spinal Elements
Spinal Elements, headquartered in Carlsbad, CA, is a spine technology company for spinal surgeons who demand innovative, extremely high quality surgical solutions. From the company's early work which helped make PEEK commonplace throughout the spine industry to our recent advancements in controlled delivery and stand-alone technology, Spinal Elements has built a reputation for being trustworthy, innovative and different. The company is focused on the development and marketing of progressive spinal treatment options and markets a complete portfolio of advanced spinal implant technologies across the globe. For more information, please visit http://www.spinalelements.com.