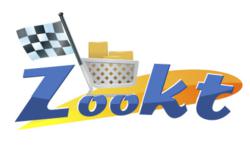 We want to be able to provide the best shopping experience for deal seekers possible.
Austin, TX (PRWEB) August 01, 2012
Zookt (http://www.zookt.com), the new way to shop for deals online, announced today the addition of Daily Deal coupons. Each day, Zookt will issue the coupon to give shoppers even greater deals on items such as tablets, appliances and more.
Zookt will post the coupons on a daily basis to the Zookt Facebook page, and also email anyone who signs up for the coupon on its website. Deal seekers can find these coupons on the Zookt Twitter feed. The coupon is a code that provides Zooks, Zookt currency, to use toward the product of the day.
"We want to be able to provide the best shopping experience for deal seekers possible. That's why we added the Daily Deal coupon," said Ahmad Chamseddine, founder and CEO of Zookt. "The site allows shoppers to get great products at the best prices, while playing their favorite games."
Zookt offers discounts of as much as 90 percent off popular items from a wide range of categories. For instance, a user can pay an entry fee of $28.70 for a chance to win a Toshiba Satellite 15.6 -Inch Laptop. With the daily deal coupon for 2800 Zooks, that's an additional $2.80 off the entry fee. If a shopper selects that item, uses the coupon code and wins the game against 15 peers, she would save 74 percent on the laptop.
Chamseddine added that Zookt makes the online deal shopping experience more fun. On Zookt, shoppers compete with peers by playing games to get the best deals on brand name products they really want.
About Zookt
Zookt is a one-of-a-kind shopping platform where shopping and gaming converge to give shoppers access to great deals while playing classic games for savings and fun. Zookt turns shopping into a memorable entertainment experience.
For more information, contact:
Amanda Branco
Amanda (at) traffic-prm (dot) com