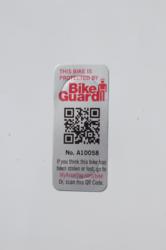 "Since BikeGuard™ was created as a community service program, our partnership was a natural fit," said Stacey Trolio, Director of Support Systems & Services at the Boys & Girls Clubs of Newark.
Brooklyn, New York (PRWEB) August 01, 2012
Bikeguard™, a free bike registry and identification program of MyAssetTag.com, has announced a new special partnership with the Boys and Girls Clubs of Newark (BGCN) Bike Exchange. BGCN Bike Exchange is a non-profit used bicycle store in Newark, New Jersey. BikeGuard™ honored the store's re-opening on July 14th, 2012 by donating 400 BikeGuard™ bike asset tags.
The BGCN Bike Exchange's mission is to provide inexpensive but quality bikes for families and individuals in Essex County, NJ, and the surrounding Northern New Jersey area. The Exchange donates 100% of the proceeds for the Boys & Girls Clubs of Newark, which works tirelessly to provide opportunities for youth through development programs in a safe environment. The team members at BikeGuard™ were eager to partner with a major philanthropic organization.
BikeGuard™ tags are one-of-a-kind asset tags that bikers can use to track and identify bicycles. The asset tags contain a quick response (QR) code that can be scanned with any smartphone, and will direct a user to the owner's bike registration page. Upon a biker's request, MyAssetTag.com will assign each bike a unique ID number that will also be printed on the tags.
BikeGuard's donation of 400 tags was perfectly timed for the July 14th opening of the BGCN exchange. The tags were sold along with highly discounted bicycles. "Since BikeGuard™ was created as a community service program, our partnership was a natural fit," said Stacey Trolio, Director of Support Systems & Services at the BGCN. "As of July 24th, the BGCN sold about 45 bikes and had given away 65 tags, with customers requesting extra tags for their kids' bikes and other bikes at home."
Trolio was pleased to note that customers returned to the shop to ask how to apply tags to already-owned bikes. Many came to buy accessories for bikes with tags visibly in place. BikeGuard asset tags are constructed by BikeGuard™ for easy installation, and are shipped for free. Simply peel off the backing paper and apply the tags to the body of the bike near the handlebars and/or underneath the seat.
To learn more about the free BikeGuard™ program, visit http://www.myassettag.com/bike.
###
About MyAssetTag.com
MyAssetTag.com is the Web's best source for asset labels and tags to organize inventory. All tags are durable and made from the highest-quality materials. Consumers can create customized asset tags in minutes, and choose from a variety of colors, styles, and finishes.
About SmartSign
SmartSign is one of America's fastest-growing e-commerce companies and parent of MyAssetTag.com, MyParkingSign.com, as well as more than 50 other sites. The company manufactures and distributes a wide range of signs, tags, mats, and labels. In the past, many consumers have found it hard to find, hard to design and hard to order signs with the right message. By positioning "signs as solutions," SmartSign has taken an entirely different approach. Through highly targeted, content-rich, and authoritative retail sites, the company provides specific solutions to specific problems, such as customizing an asset tag. SmartSign is widely recognized for its quality construction; its signs come with a 3M® warranty and outlast fast-fading, ink-jet signs. Other SmartSign advantages include fast and free shipping, the Web's largest range of designs, and a best-price guarantee.