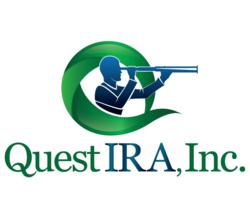 Quest IRA understands the need to create a positive online experience for our clients, prospects and business partners.
Houston, TX (PRWEB) August 01, 2012
Quest IRA, Inc realizes that the Internet has become a primary communication tool for most of our customers and is a heavily relied upon research tool. The legal and regulatory environment for IRAs and other retirement investment tools is an ever changing world so we felt it was imperative that we give our customers an online community within which accurate education of retirement investments, including self-directed IRAs could happen. In addition to the online education and community tools, our customers now have immediate, real-time access to their accounts online and regular email alerts regarding their accounts and other important information.
"Quest IRA understands the need to create a positive online experience for our clients, prospects and business partners" said Ryan Kimura, VP of Sales & Marketing at Quest IRA. "With so many investors in today's market doing online research and due diligence, if we don't keep up with new innovations to make the online experience better we will fall behind. The trick for us is trying to provide legally correct information, in such a way that is easy to understand, to the American public so that investors truly understand their options with retirement savings."
"Internet, the online experience and social media are the 21st century way to market your product, service and/or business" stated Beatriz Oliva, Central Texas Director at Quest IRA. "Being in charge of social media for Quest, we are trying to create an online community for our clients. At Quest IRA, we are really interested in creating an investment community where we have physical offices; for those clients who are not near an office the social media and online experience is their community. So, with the new "Investment Options" section on the website, videos on our YouTube channel, as well as all of our social media outlets (Facebook, Twitter, LinkedIn, blogs, Google Places, etc), we hope to attract many more to our community."
The Quest IRA, Inc corporate office is located at 17171 Park Row, Suite 100 Houston, Texas 77084. Quest IRA currently supports more than 5000 customers with online accounts and reaches approximately 20,000 customers monthly via their social media and online marketing activities.
ABOUT QUEST IRA
Quest IRA, Inc. is the leading provider of self-directed retirement account administration and education. They are the experts and authorities when it comes to "alternative" investments like real estate, notes, precious metals, oil & gas, private placements, etc. within an IRA, HSA, ESA or 401(k)s. They administer client's accounts from across the nation but the corporate office is located in Houston, TX with offices in Dallas, TX, Austin, TX and Mason, MI. They currently administer over $500MM in client assets for over 5000 clients.
Those interested in learning more about self directed IRAs and Quest IRA, Inc. can visit http://www.QuestIRA.com. Anyone interested in Quest's free educational classes, webinars and networking events can call 800.320.5950 for more information.