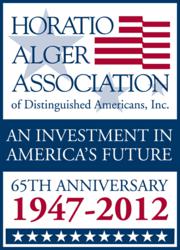 "The Association's hope is that the 2012-2013 State of Our Nation's Youth survey will offer renewed perspectives in support of the long-term well-being of our country and its young people." - Executive Director Terrence J. Giroux
Washington, DC (PRWEB) August 01, 2012
The Horatio Alger Association of Distinguished Americans, Inc. has invited Jessica Uy, a high school senior from Silver Spring, MD, to participate on a panel that will discuss the findings of the 2012 State of Our Nation's Youth Survey at a press conference on August 8th at the Newseum in Washington, D.C. The survey, conducted in conjunction with Hart Research Associates and NORC at the University of Chicago, was given to more than 1,500 individuals, ages 14 to 23, providing comprehensive study of the perceptions, aspirations and apprehensions of America's youth.
Jessica Uy, 18, graduated as Valedictorian of the Class of 2012 from St. John's College High School in Washington D.C. Her hard work and dedication to her studies earned her a 4.7 GPA as well as the prestigious De La Salle Scholarship, the 2011 George Washington University Engineering Award, membership to the National and Spanish Honor Society and many other awards. Uy also participated in numerous extra-curricular activities, including field hockey, student government, the school newspaper and her school's peer ministry program. Uy will be joined on the panel by five other students from across the country to discuss the survey's findings.
This is the 11th State of Our Nation's Youth survey conducted by the Horatio Alger Association and the seventh survey completed in collaboration with Hart Research Associates. For the first time, NORC at the University of Chicago is also contributing its considerable expertise and experience to the survey and is authoring the final report. NORC conducts objective social science research worldwide, and has served the public interest since 1941.
Initial statistics show shifts from the 2008 State Of Our Nation's Youth survey:

A stronger interest in the economy, jobs and education;
Declining interest in politics;
More time spent with family;
Regaining hope and optimism about the future of the country;
An increased incidence of mean or hurtful information posted on social media.
Hart Research Associates and NORC are preparing a comprehensive report with all of the survey's findings to be unveiled at a press conference on August 8, 2012 from 10:00 AM to 11:00 AM at the Newseum in Washington, D.C. Mr. Peter D. Hart, Founder of Hart Research Associates, will serve as press conference moderator and will discuss the survey findings with a panel of young people who have responded to the survey. The State of Our Nation's Youth report is part of the Horatio Alger Association's growing research initiative focused on identifying key challenges facing American youth. The results will also help to inform the Association's educational programs on behalf of young people at risk.
Founded in 1947, the Horatio Alger Association of Distinguished Americans celebrates those individuals in our society whose determination and hard work have enabled them to overcome life's obstacles to achieve success. As a 501 (c) (3) education nonprofit, the Association provides college scholarships and mentorship to high school seniors who have demonstrated courage in the face of adversity and an unwavering desire to pursue higher education. The Horatio Alger Association has awarded almost $100 million in scholarships since the inception of its scholarship programs in 1984.