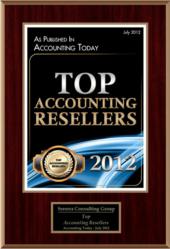 We're focused on cloud-based ERP and CRM software and wouldn't consider on-premise applications
Irvine, CA (PRWEB) August 13, 2012
Sererra Consulting Group, LLC., a world-leader in business process and technology management offering a broad portfolio of the best cloud-based ERP, CRM and eCommerce solutions to the mid-market, announced that it has been named a top accounting and ERP Value Added Reseller (VAR) by AccountingToday. The Top 100 VAR's are chosen from organizations specializing in the sale and implementation of Enterprise Resource Planning and accounting software.
Sererra has been building a business around cloud offerings since it's beginning and has grown tremendously over the last year, earning a VAR 100 position. Sererra's SaaS software products include Intacct, NetSuite and SAP Business ByDesign. "We're focused on cloud-based ERP and CRM software and wouldn't consider on-premise applications - we're constantly evaluating new products as they mature," said Sererra president Nik Puni.
Sererra has carefully chosen products that are the best in the industry as well as meet the business needs of our SMB core. Puni continues, "We're very careful not to take on new products unless they add value to our product mix. New products should also be able to differentiate themselves from the products we already carry, and we don't want to carry new products just for the sake of carrying them."
"This is very exciting for our company and we are honored to be recognized for our hard work and dedication. We will continue to exceed the expectations of our clients with our broad portfolio of the best cloud technologies in the market and our dedication to delivering results," said Sererra CEO Vijay Saha.
About Sererra
Sererra is a leading Green IT technology and management consulting firm focusing on delivering turnkey business solutions for mid-market firms worldwide. A provider of SaaS based technology for ERP, CRM and eCommerce needs, Sererra's core areas of expertise emphasize business process engineering, systems implementation, integration and custom software development including cloud-based business processes for a wide range of industries. As a NetSuite, Salesforce.com, SugarCRM, INTACCT and SAP Business ByDesign provider and integrator serving the mid-market with hundreds of implementations, Sererra provides clients with a complete integrated solution that enables businesses to grow more profitably.
About Accounting Today
AccountingToday.com is a leading provider of online business news for the tax and accounting community, offering breaking news, in-depth features, insightful editorial analysis, and a host of Web-related resources and services.