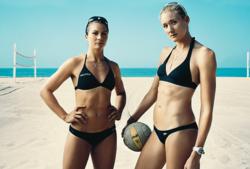 ...the results of their plays are proofs that their psychological training is doing them very well.
Richardson, TX (PRWEB) August 01, 2012
Beach volleyball's golden pair of Kerri Walsh-Jennings and Misty May-Treanor has already won two Olympic golds. However, two medals are not enough for them as they are currently seeking for their third win. And to help them achieve that goal, nbcolympics.com reported that they underwent psychological training. Entertainment and sports news website GreenBeanBuddy.com probed the help the said training gave to the two veteran beach volleyball players.
According to the report, the pair went through a psychological training akin to marriage counseling to prepare for the Olympics. It detailed that the 2012 Summer Games will be their last tournament together as May-Treanor plans to retire immediately after the biggest sporting event ends. Meanwhile, Walsh-Jennings plans to keep on playing with a not-yet-determined new partner.
As related by the report, it was sports psychologist Mike Gervais who helped the pair with their psychological training. The said purpose of which is to get them on the same page by helping them re-connect and improve their communication. And as GreenBeanBuddy.com observed, the said training is working pretty well for them.
Here's an excerpt of the post Walsh-Jennings, May-Treanor Hungry For Gold by GreenBeanBuddy.com
"This year's Summer Olympics is already the third for ultimate beach volleyball pair Kerri Walsh Jennings and Misty May-Treanor. And just as they did during the first two summer games, they want to bring home the gold this 2012. However, that is much tougher to accomplish this time around.
Since their last Olympic appearance in 2004, many things happened to both Kerri and Misty. Keri had two children with her husband and fellow beach volleyball player pro Casey Jennings. On the other hand, Misty had an almost stint on ABC's "Dancing With the Stars" before she got cut out for a tendon injury. But despite those separate happenings in their lives, the two reunited during the FIVB World Tour, their last event together before the Olympics. "
Going over the pair's first two matches, entertainment and sports news website, GreenBeanBuddy.com noted that the two struggled for a number of times. However, it said that the results of their plays are proofs that their psychological training is doing them very well. And with the pressure that comes with their unbeaten record, it added that the said training could just be what they need to nab that Olympic gold...again.
Get More Entertainment and Sports News Today at GreenBeanBuddy.com.