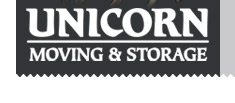 Unicorn sells new and used boxes of all sizes to meet your moving needs.
Austin, TX (PRWEB) August 02, 2012
Unicorn Moving & Storage, a moving company based in Austin, Texas, has developed a unique approach that incorporates the recycling of boxes in order to minimize moving costs for those relocating over the summer.
THE RECYCLING BOX PROGRAM
The program works by rewarding customers with a refund when they recycle moving boxes that they purchased from Unicorn. A customer may purchase up to $150 worth of new or used boxes, which customers may later recycle back to Unicorn in return for a refund. If the customer exceeds $150 when purchasing boxes, Unicorn will give a refund for 1/3 of the cost beyond the initial $150. The new program is both a way to help the environment and also a great deal for anyone planning a move and looking to save some cash in the process.
ABOUT UNICORN MOVING & STORAGE
Unicorn Moving & Storage was founded by Mark Yutz, and was named Austin's best moving company in the Austin Chronicle's "Best of Austin 2010 and 2011". They are members in good standing with the Better Business Bureau (BBB), the Austin Apartment Association (AAA), the Texas Association of Realtors (TAR), the Texas Department of Transportation, and more.
Unicorn Moving & Storage
102 Victor Street
Austin, TX 78753
512-339-9922