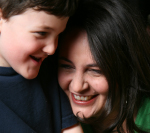 I needed to know that there was something ahead, that it wasn't a fantasy, that life does go on, that babies were a possibility and I needed to come to some balance with my career as an actor as well. ~ Sara-Jane, Brooklyn, NY
New York, NY (PRWEB) August 15, 2012
Beliefnet.com, a multi-faith based content site with 4 million unique visitors monthly recently invited Christine Agro, noted conception, pregnancy and parenting expert, to write the daily blog Life As A Conscious Mom.
In her first three months with Beliefnet, Christine has written more than 70 articles on everything from parenting do's and don'ts, to the roles energy and emotions play in fertility issues, to talking to children about violence, death and terrorism to helping children stand up to bullies, all offering insight into ways of empowering children, creating deeper parent/child connections and parenting consciously.
For more than a decade, Christine Agro has been helping women overcome conception challenges, find deeper and more meaningful connections during pregnancy and step into conscious parenting. She has played an integral role for hundreds of women, who for one reason or another, have felt hopeless or overwhelmed and have been searching for deeper meaning when it comes to doing the most important job, being a mom.
Christine is a clairvoyant, but not your ordinary 'tell your future' clairvoyant. In fact, she follows a strict code of ethic and steers away from future telling, believing that it strips one of their own personal power. This is what makes Christine's work unique – it's about the here and now. She looks deeper into the lessons we are trying to learn and sheds light on how these lessons evolve into everyday circumstances and life challenges, be that conception, pregnancy or parenting.
Many women come to Christine when they have been told IVF (In Vitro Fertilization) is the only option. On many occasions Christine has helped women work through the energetic blocks that stop them from conceiving naturally.
"I was told I'd need surgery and most likely IVF in order to conceive," said Maria S. from Connecticut. "I worked with Christine twice – the first time we did a lot of emotional clearing, and the second time Christine was able to see my baby, before I was even pregnant. She helped me to connect with him and I was able to talk to him. It was incredibly powerful."
Despite what the Doctors had told her, Maria had conceived naturally (six weeks after her second session.) Her son on was born nine months later.
"It's magical work and so rewarding," explains Christine. "When I'm in a reading, I am able to see the incoming baby, even before a woman has conceived. In many cases I'm able to connect my clients with their babies-to-be through a special meditation space. The opportunity for a woman to connect on this level is so rich. It greatly deepens the mother/child bond," says Christine, who fostered a deep connection through meditation with her own son when she was pregnant.
Sara-Jane from Brooklyn, NY sought out Christine's help after a failed pregnancy left her sad and angry. "I needed to know that there was something ahead, that it wasn't a fantasy, that life does go on, that babies were a possibility and I needed to come to some balance with my career as an actor as well."
During Sara-Jane's session, Christine connected with a baby boy. "Christine helped me connect with this little boy and she suggested that my husband and I try to conceive naturally for three months. We conceived in the third month and our baby boy was born that summer.
Christine's work extends beyond conception and pregnancy. She also helps moms to better understand the nature of their children. With an avid belief that we are born conscious only to lose it by circumstance, she shows parents how to truly see and hear their children, and supports parents in raising conscious children.
"I'm able to give women a different perspective on being a parent. I can also provide insight into who their child is. I'm able to see what their child's life lessons are and I can offer insight into how parents can help support their child," says Christine. "If we can learn our life lessons at two rather than 42, our life will be that much easier and when parents have that insight, they are better prepared to both understand their child's behavior and guide their children."
Christine shares, "sometimes the readings are about loss, but the ability to provide comfort and a new perspective to women is a real gift." "Plus, she enthuses, I get to meet so many amazing little spirits on their way into the world, it's phenomenal. I feel really blessed that this is what I get to do for a living." She adds,"And now to have the opportunity to share my insight and guidance via Beliefnet's platform is wonderful. I'm both honored and extremely excited to be a part of their network."
###
Christine Agro has been quoted in numerous on-line and print magazines, writes the daily Beliefnet blog Life As A Conscious Mom and is author of 50 Ways to Live Life Consciously and The Conscious Living Guide Wisdom Decks (Standard and Special Moms' Edition). She is the founder of The Conscious Mom's Guide, a free on-line membership community designed to support conscious parenting.
Christine is available for interviews, expert quotes and commentary on pregnancy, parenting, and childhood concerns such as back-to-school and internet use, for television and radio and she can be scheduled for workshops and speaking engagements. She will be traveling to India in November 2012 speaking about conscious parenting and conscious living.
For women interested in working with Christine, she offers consultations by phone to any area of the world. To arrange an appointment please email her at christine(at)theconsciousmomsguide(dot)net Christine will respond with reading details. Women can also become a member of The Conscious Mom's Guide where they can then join a meditation program that's right for them (Preconception, Pregnancy , Parenting or Peace of Mind.)
Christine lives in Arlington, NY which is 90 minutes from both New York City and Albany, NY.
Her dedication to inspiring conscious parenting has been amplified by her experiences with her own conscious son, Caidin, who is now eight.
Contact Christine at christine(at)theconsciousmomsguide(dot)net
For Media inquires only: email or 347-273-2962
For Appointments: email only to christine(at)theconsciousmomsguide(dot)net