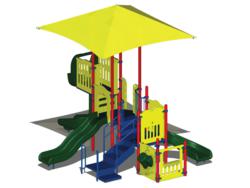 Custom-designed playground by a West Coast leading supplier of commerical playground equipment, Pacific Play Systems, Inc., for new Riverside County playground project
Carlsbad, CA (PRWEB) August 02, 2012
A recently completed playground by Riverside commercial playground equipment company, Pacific Play Systems, Inc., at Coachella Valley Apartments, has transformed the existing play area, providing the complex and its' residents with a new space for fun and exercise. The main focus of the project is a colorful state-of-the-art play structure designed for children in the 2-12 age group. The structure has also been installed alongside a brand new arch swing set and a new in-ground bench. The play structure itself is packed with a wide range of activities for both the upper and lower ends of the 2-12 age group. The system contains a wide range of components including a wheel, talk tube, driver panel, store panel, and drum panel, three playground slides, including a spiral, quarter turn, and poly single slide, a bedrock climber, and a shingled gable roof for shade and visual appeal. This high quality equipment seems to set the new standard for playgrounds being offered today.
In addition to this recently completed project at Coachella Valley Apartments, Pacific Play Systems, Inc., is also planning similar projects throughout Riverside County. Company Vice President, Elizabeth Bemanian, explains their design philosophy, "In our design process, every project is customized. We work closely with our customers to find the playground that will be the perfect fit for their location so that the final product is 100% to their satisfaction." Bemanian further explains that, "Because we offer such a wide variety of playground equipment and site furnishings, all offered in a wide range of colors, for the playground vision of each customer, the sky is truly the limit!". Bemanian concludes, commenting on the importance of their custom design process, "Each playground for us is also something completely new and often surprising". The users of the newly installed playground equipment at Coachella Valley Apartments do not seem to disagree with this customer-friendly, highly inventive design process, especially when they are scaling up the bedrock climber, jumping to the top deck, and preparing to shoot down the winding spiral slide on a sunny So Cal day.
About Pacific Play Systems, Inc.
Pacific Play Systems, Inc. is located in Carlsbad, California and specializes in commercial indoor and outdoor playground equipment design and installation. The company has supplied playground equipment for parks, schools, preschools, HOAs, military bases, and churches throughout the southern California region in Riverside, San Bernardino, San Diego, Orange, Los Angeles and Imperial counties. As a full service playground equipment company, they provide their clients with a complete package from the initial planning to the final installation, with site evaluation and custom design offered at no cost or obligation. In addition to its state-of-the-art Playcraft commercial playground equipment, they also offer a wide variety of shade structures, sports equipment, soft-contained indoor playground equipment, water park equipment, safety surfacing and site furnishings.