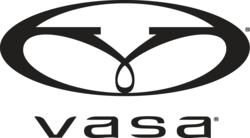 Essex, VT (PRWEB) August 01, 2012
Vasa, Inc. manufacturer of the Vasa Trainer and Vasa Ergometer, the dry-land training tools of choice for thousands of swimmers, triathletes, swim and triathlon coaches, surfers and paddlers from around the globe, today announced the launch of the new vasatrainer.com website.
In order to better serve Vasa's growing clientele and customer sectors, Vasa's new website offers a segmented experience to meet the needs of the company's differentiated customer base. The redesigned navigation allows users to browse and learn about the products based on their specific interests. The website also features a new training resources section where athletes and coaches can easily access a number of instructional videos, tips and guides. By expanding the number of videos and other informational resources, Vasa aims to help users make the most of their Vasa Trainer or Ergometer. Additionally, Vasa's product line has expanded to include an Ergometer that is specifically designed for stand-up paddling (SUP), and the website features a new section to reflect this addition to the current product offerings.
Further acknowledging Vasa's impact as essential dry-land training equipment at the highest level of swimming competition, Vasa Trainers and Ergometers were purchased by the London Olympics to equip the swim training center at Eton House in the Olympic village. A devoted user of Vasa's equipment, Vasa is sponsoring swimmer and 2012 Olympian Alex Meyer as he competes in London in the 10-kilometer open water event on August 10th.
"The launch of our new vasatrainer.com site is a significant step forward for Vasa," said Rob Sleamaker, Founder and CEO of Vasa, Inc. "We're seeing the impact that Vasa Trainers and Ergometers are having with Olympic athletes, and we look forward to building on this momentum through 2012. To achieve that, we believe that the new vasatrainer.com site really helps communicate the value and benefits of our outstanding Vasa products."
For more information about Vasa and to see the new website, please visit http://www.vasatrainer.com.
About Vasa
Since 1988, Vasa's mission has been to design and build premium quality training tools for sports, fitness and rehabilitation. Whether the focus is recreational, advanced, or for the professional athlete, coach, trainer or physical therapist, Vasa's products provide exceptional performance results, durability and value. Longtime favorites of Olympic swimmers, triathletes and their coaches, Vasa's chief products are the Vasa Trainer and Vasa Ergometer. The Vasa Trainer is a versatile strength-training machine that strengthens muscles for swimmers, surfers, paddlers, skiers, triathletes and in total-body fitness applications. The Vasa Ergometer is the ultimate on-land swimming simulator, equipped with a power meter that provides superior training results by building power and increasing endurance. Vasa's products are guaranteed to improve performance and provide a lifetime of effective and trouble-free service. For more information about Vasa, please visit http://www.vasatrainer.com or visit the Vasa Facebook page.
# # #