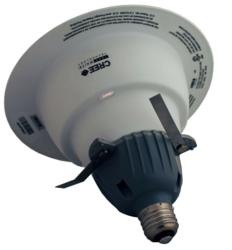 We're very excited to be among the first to offer CREE's CR6-800L
Golden, Colorado (PRWEB) August 01, 2012
EarthLED, one of the nation's largest online CREE Lighting distributors, announced the in-stock availability of CREE's new CR6-800L. The CR6-800L is one of the most anticipated new releases from CREE. Delivering 800 lumens yet only consuming 12 watts, it's the first recessed LED downlight kit capable of replacing a 90 watt incandescent yet delivering a >90 CRI.
"We're very excited to be among the first to offer CREE's CR6-800L" says Mark Costigliola, Managing Director of Advanced Lumonics, parent company of EarthLED. "CREE products have been among our top sellers since we started offering them last year and this is perhaps their most anticipated release. This recessed LED downlight is pretty amazing. It is really hard to believe that you can get the incandescent equivalent of 90 watts of extremely high CRI light with only 12 watts."
Cree CR6 modules are designed to easily install into existing 6" housings, or in new construction applications. The ENERGY STAR qualified CR6-800L and CR6-575L LED downlights provide higher efficacy and longer life than Compact Fluorescent Lamps, while offering the beautiful light quality that you would expect from an incandescent.
About EarthLED
EarthLED, headquartered in beautiful Golden, Colorado. is a leading LED lighting supplier. Established in 2007, EarthLED provides lighting products to both consumers and commercial customers alike. During the past 5 years companies such as Unilever, Ford Motor Company, IBM, Microsoft and BP have solved their lighting challenges and saved money by converting to LED lighting provided by EarthLED. EarthLED continues to redefine the LED buying experience online via its Store.EarthLED.com site by offering the best LED lighting from the best brands at the best price.