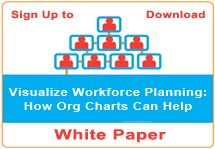 You can't manage what you can't visualize.
Novato, CA (PRWEB) August 02, 2012
Visualizing Workforce Planning data through the use of organizational charting software so management can better understand and assure the right people are in place to accomplish critical business objectives in the most efficient and cost-effective manner, is the topic of the latest white paper available from OfficeWork Software. Visit http://www.Orgchartpro.com to download a copy of the white paper.
"Workforce planning is an ongoing balancing act requiring continuous access to fresh, up-to-date organizational information. It's not a one-time event," explained Joe Kolinger, CEO of OfficeWork Software, a workforce software solutions and professional services company that helps organizations operate at peak efficiency. "There are no hard fast rules on how to implement and run a successful Workforce Planning program. However, a correctly implemented Workforce Planning program has the potential to significantly reduce operating costs and enable companies to focus on critical business objectives."
The new white paper begins with a Workforce Planning Overview and leads into The Power of Visualization, including how Org Charts are a concise way to communicate organizational structure and other important employee information, since they are immediately understandable and actionable. Following next are the steps involved in The Workforce Planning Process which include Clearly Defined Mission and Objectives; Define Competency Needs; Assess Existing Competencies; Match Employees with Organizational Needs; Balance Demand and Supply of Talent; Quantify & Measure; Reduce Costs; and "What if" Scenario Planning.
The paper then continues with a section dedicated to Visualizing Workforce Planning. Kolinger explained, "Imagine being able to take all this overwhelming text-based information — key jobs, reporting relationships, workforce competencies and profiles essential to accomplishing company/project goals — and 'map' them in clear, concise charts. That's what Org Charts do for Workforce Planning. Whether creating organizational charts for the entire company or just a workgroup, an Org Chart's ability to present a clear visual of complex workforce information will help facilitate insights to create the right organizational structure. Additionally it will leverage that workforce information for other such important tasks as organizational design, succession planning, performance management and corporate reorganization/right-sizing."
The white paper wraps up with Practical Uses for Org Charts in Workforce Planning, including examples. "Workforce Planning is an essential component of a company's day-to-day operations. As your company looks to align its strategic business objectives with workforce growth and development plans, consider how Org Charts will deliver an essential perspective of the workforce for creating a solid plan for driving business success," Kolinger concluded.
To receive a copy of Visualizing Workforce Planning — How Org Charts Can Help, or for more information contact OfficeWork Software at +1-800-477-1408 or +1-415-462-1313, email them at sales(at)officeworksoftware(dot)com, or visit them on the web at http://www.Orgchartpro.com, http://www.OrgchartforVisio.com or http://www.officeworksoftware.com.
The white paper is also available at http://nct.digitalriver.com/fulfill/0211.058.
About OfficeWork Software
Headquartered in Novato California, OfficeWork Software provides Workforce planning software solutions and professional services that help organizations operate at peak efficiency. Our OrgChart software allows you to view, model and analyze your workforce providing managers, executives, and Human Resource professionals the ability to gain key insights, visualize, and manage the organization efficiently and effectively. Visit us at: http://www.Orgchartpro.com, http://www.OrgchartforVisio.com or http://www.officeworksoftware.com.