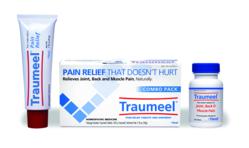 "Pain costs society hundreds of billions of dollars a year in the United States."
Albuquerque, NM (PRWEB) August 01, 2012
Pain costs society hundreds of billions of dollars a year in the United States. Estimates range between $560 - $635 billion annually1. To complicate the issue, annually over 100,000 people in the Unites States are hospitalized because of Non-Steroidal Anti-Inflammatory Drug-related problems2. According to Dr. Kristy Anderson this figure leads consumers to seek natural pain relievers with fewer side effects. Dr. Anderson is the medical advisor of Bioregulatory medicine for Heel Inc., the makers of Traumeel®.
There are dozens of conventional over-the-counter (OTC) pain relief drugs like NSAIDs available on the market but some OTC pain relievers have unwanted side effects. In a newly published video Dr. Anderson recommends you look for medicines that complement a body's natural processes to reduce joint and muscle pain without having to go through your digestive system which may put your stomach and/or liver at risk. To learn more go to YouTube and for more information on Heel go to http://www.heelusa.com.
1. Institute of Medicine Report from the Committee on Advancing Pain Research, Care, and Education: Relieving Pain in America, A Blueprint for Transforming Prevention, Care, Education and Research. The National Academies Press, 2011. http://books.nap.edu/openbook.php?record_id=13172&page=1
2. http://www.webmd.com/pain-management/news/20040123/fda-warns-otc-pain-reliever-misuse http://www.fda.gov/ohrms/dockets/ac/02/briefing/3882B2_02_McNeil-NSAID.htm
-30-
Kristy Anderson, NMD, is a licensed Naturopathic Medical Doctor in the state of Arizona and is currently the Medical Advisor - Bioregulatory Medicine for Heel USA serving at a national and international level for Heel with medical education and medical literature development. She is a published author on Homotoxicology in the international journal, Journal of Biomedical Therapy and the journal Explore as well as lecturing nationally & internationally on bioregulatory medicine.
Dr. Anderson completed NIH grant-funded research on alternative oncology treatments while in attending Southwest College of Naturopathic Medicine (SCNM) and believes in focusing on combining the best of western medicine and naturopathic medicine for the benefit of the patient. She is a graduate of the SCNM and an active member of the American Association of Naturopathic Physicians (AANP), the American College for Advancement of Medicine (ACAM), the Institute of Functional Medicine (IFM), the American Society of Bioregulatory Medicine (ASBRM) and the Homeopathic Pharmacopeia Convention of the United States (HPCUS).
Heel is a science-based pharmaceutical company that develops, manufactures and distributes medicines based on natural substances. Celebrating over 75 years, the company is a pioneer in the field of science-based homeopathic research on natural medicine and a global leader for the production of homeopathic, combination medications. With the help of its unique therapeutic concept based on Bioregulatory Medicine, Heel is working to build the bridge between conventional medicine and homeopathy. Heel medicines are available through physicians and licensed health care practitioners, independent pharmacies, retailers and fine natural product stores throughout the United States. For more information on other Heel products and their use please visit http://www.heelusa.com.
Follow Heel on Facebook and Twitter. View Heel Inc.'s growing video library on YouTube.