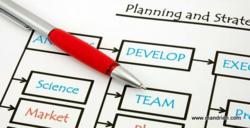 Those who see BPO as more than a way to cut costs are the ones who will push their industries forward, leaving those who cling to conventional modes of thought scrambling to catch them."
New York,New York (PRWEB) August 02, 2012
A recent study of 263 clients who bought business process outsourcing, or BPO services, suggests that BPO is not currently being used to its fullest capacity. The CEO of Mandrien, Rusty Solomon, has analyzed this data and offered suggestions for other BPO buyers to realize a greater business value from investments in BPO. The study paid particular attention to the top 20 percent of participating BPO buyers, designating them the high performers, and compared their behaviors against buyers who underused their BPO capital.
Differentiating the high performers from conventional BPO users has allowed Mandrien to spot what sets these buyers apart from conventional BPO practices. Mandrien then pinpointed eight strategies that maximize BPO investment returns.
Holistic thinking: The top 20 percent of BPO buyers were big-picture thinkers who took the full scope of the business process into account and leveraged their BPO investment accordingly. Mandrien believes that they saw both third-party performance and intrinsic processes as part of a larger whole.
Collaboration: Effective BPO users felt a strong, unifying sense of direction among all involved parties. Instead of working as separate departments that each saw their own benefits reflected in BPO, committees worked together toward larger, organization-wide goals.
Adaptability within boundaries: Successful top performers were able not only to embrace change, but to govern it. Instead of being reactive to industry changes around them, they took action to institute changes based on sound analysis.
Prioritizing value over price: All of the high-performance organizations that comprised the top 20 percent of study participants saw value as a broader concept than cost reduction alone. By analyzing BPO benefits beyond the fundamentals of price, Mandrien found, decision-makers found other ways to use their investments to reach their goals.
Specificity: By narrowing their focus and targeting highly specific outcomes, the top performers were better able to measure their successes and leverage them to meet new goals. Setting more concrete goals helped executives draw lines between the organization's current state and its target.
Strong analytical skills: Without exception, high performers outranked those at the middle and bottom of the performance scale on industry knowledge. Mandrien observes that outsourcing is most effective when the decision-makers in charge of it understand how to use it best.
Integration of outsourced and native processes: The companies that achieved the greatest success were those that aligned in-house processes most seamlessly with outsourced processes.
Technological advancement: A willingness to embrace innovative technology and apply it in novel ways was a characteristic of top performers, Mandrien analysts discovered.
"Most industries need to take a broader view if they want to gain full value from their BPO investments," noted the Mandrien CEO, Rusty Solomon. "Value has a far wider scope than cost alone, and businesses that understand that fully will reap the greatest benefit from business process outsourcing." Rusty Solomon noted that clients and providers both stood to benefit from adopting a more holistic outlook: "Those who see BPO as more than a way to cut costs are the ones who will push their industries forward, leaving those who cling to conventional modes of thought scrambling to catch them."
The biggest difference that the Mandrien research team and Rusty Solomon noted between top performers and average to low performers was in attitude rather than in the hard logistics of BPO use. Organizations that saw their BPO strategies as integral parts of their overall process tended to find other ways to use BPO effectively. Instead of relegating BPO to a small, isolated part of their organization, successful buyers viewed it as an essential component.
Rusty Solomon noted that adopting the same strategies and outlooks as high-performing BPO buyers, companies with low or average returns on their BPO investment could realize significantly greater value from their outsourcing solutions. "A change in outlook can often be the catalyst for deeper changes that revolutionize business processes."
Mandrien provides business process outsourcing counsel, process optimization and corporate strategic planning for the real estate services industry. Mandrien offers unrivaled practical and technical experience in the title insurance industry.
For more information,go to http://www.mandrien.com.