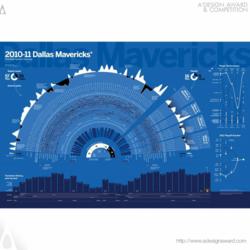 Como, Italy (PRWEB) August 01, 2012
A' Award and Competitions are pleased to share that the design Dallas Mavericks Season History, 2011 by Andrew Garcia Phillips has been awarded with the famous Silver A' Design Award in Graphics and Advertising Design Category marked as one of the winners by the esteemed judges of the A' Design Awards & Competitions amidst numerous designs.
Insights on Dallas Mavericks Season History, 2011
Andrew Garcia Phillips, the creator of the winning work Dallas Mavericks Season History, 2011 says "I've gathered data sets from multiple sources to compose a visualization that represents the highs and lows of the season for this championship team. The data is processed in a customized javascript code that draws the data into the form we've established. This is the third series of such posters that I have created." Learn more about this design: http://www.adesignaward.com/design.php?ID=24618
The Silver A' Design Award
The Silver A' Design Award is a prestigious award given to top 5% percentile designs that has accomplished an exemplary level of greatness in design. The designs are judged by a panel of three different jury which is composed of academic, professional and focus group members. The designs are evaluated with score normalization to remove any biases and are voted on aspects such as functionality, ergonomics, engineering, presentation, innovation, usability, fun details, technology, and any other specific points that could be considered, each of these points are further weighted for different jury groups.
About A' Design Award and Competitions
A' Design Award and Competitions, aims to highlight the excellent qualifications of best designs, design concepts and design oriented products. A' Design Award and Competitions are organized and awarded annually and internationally in multiple categories to reach a wide, design-oriented audience. To learn more visit: http://www.whatisadesignaward.com