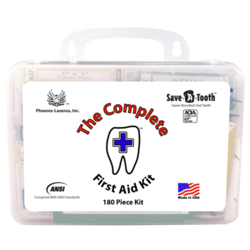 Consumers must be very careful about the first aid kit that they choose. Many kits cut the prices of their kits by using imported Chinese components that contain dangerous chemicals
Wayne, Pa (PRWEB) August 01, 2012
A Lake County Sheriff's Office bomb squad had to be called to dispose of a gauze bandage in an old kit that contained picric acid, a highly explosive chemical compound.
"A woman reported the gauze was in an old first-aid kit at a Florida home," sheriff's Sgt. Jim Vachon said. Picric-soaked gauze bandages once were commonly used and found in first-aid kits. However, they're extremely sensitive to heat and friction and can cause explosions.
Phoenix-Lazerus, Inc. maker of the best selling Complete First Aid kit wants to assure the public that no such dangerous chemical is found in their kits."Our kits contain only safe USA made ANSI compliant components, says Stephan Krasner," vice president of production. "One of the reasons our kit is the best selling kit on Amazon.com is because the quality of the components is matched by no other first aid kit."
According to Karen Whitecotton, curator of collections at a well-known museum, found that five of the kits in her collection had picric acid soaked gauze. Why would this chemical be found in first aid kits.? Medical gauze used to be soaked in picric acid to treat, most commonly, burns (interesting tidbit- picric acid gauze was used in the treatment of burn victims from the infamous Hindenburg disaster).
This is not the only incident of dangerous picric acid soaked gauze found in first aid kits. Another kit was found in a Boy Scout kit in Colorado Springs. The owner of the kit was concerned that kit may contain a small amount of picric acid and brought the kit to Fire Station 5 in Colorado Springs for disposal. The Hazmat and explosives team had to be called and remotely removed the hazard to a safe location and destroyed it, officials said.
The same chemical was found in a historic doctor's bag last month in a warehouse in the Lowry area of Denver belonging to the Colorado Historical Society, said society spokeswoman Rebecca Laurie. It too was picric acid, so the Denver bomb squad and a fire hazmat teams were called in to remove the acid.
"The lesson to be learned from these incidents is that consumers must be very careful about the first aid kit that they choose. Many kits cut the prices of their kits by using imported Chinese components," says Dr. Henry Rankow, Professor of Dentistry at Temple University, School of Dentistry. Much has been written about the presence of dangerous toxic chemicals in these imports. Consumers must choose a product not exclusively on the price but on quality and value.
The Complete First Aid kit, also available on Amazon.com, provides the best quality and value of all first aid kits. It contains the Save-A-Tooth® system that stores and preserves knocked out teeth for 24 hours. Over 90% of knocked out teeth can be reimplanted and saved for life if the Save-A-Tooth system is used within the first sixty minutes of the accident. It has the widest variety of components and only contains high quality components made in the USA, components that are safe and really work.
About the Company:
Phoenix-Lazerus, Inc. manufactures and distributes the Save-A-Tooth® system and the Complete First Aid kit. It has been in business since 2001 and is dedicated to producing products completely made in the USA with 100% USA-made parts. It is also the tooth transportation system in the Store-A-Tooth system, the leading transporter and cryogenic storage system for dental stem cells.