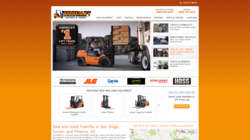 (PRWEB) August 02, 2012
July was a busy month for Toyota Forklift dealers across the country. In Southern California, Southwest Material Handling has sponsored West Coast Customs, the extreme auto customization shop with the hit TV show. As the official dealer for Toyota forklifts in Orange County the Inland Empire and Las Vegas, Southwest will benefit from both the in store and TV brand coverage, and West Coast gets their hands on the number one forklift in the world from Toyota. Upon delivery of the forklift, West Coast Customs Facebook fans immediately started recommending possible upgrades such as rims, full forklift wraps, and sound systems normally reserved for high end cars. It is all speculation at this point, but it is a good bet that West Coast's new forklift will end up as unique as their other creations. Fans of the show will be able to see the lift in episodes starting in October.
Both Toyotalift Inc. and Southern Material Handling Company upgraded their web presence with a brand new website from Equipment Base. Southern Material, the official Toyota forklift dealer in Oklahoma and Missouri, has upgraded their look to give customers a modern showcase of their award winning lift truck products & services. As an authorized representative for many material handling and industrial cleaning brands such as Tennant, Taylor-Dunn, Interlake Mecalux and of course Toyota Industrial Equipment, Southern Material needed a website that allowed them to show off their diversity of products in distinct new, used and rental departments. Customers can now look forward to browsing inventory in and staying abreast of the latest Southern Material Handing company news.
Toyotalift Inc., the official Toyota forklift dealer in Arizona and San Diego, has also re-launched their site to showcase their forklift, aerial lift related services including new/used sales, rental, parts, service and training. Toyotalift Inc. customers can find the latest material handling equipment financing deals, such as the latest Electric Pallet Truck at 0% financing for just $3,499. Look for Toyota forklift dealers in your area to continue to innovating with new services, sales and financing packages, and support for the worlds number one lift truck.