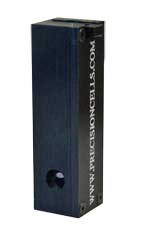 Farmingdale, NY (PRWEB) August 01, 2012
With cutting edge technology, NSG Precision Cells is proud to announce their latest innovative product in micro focus cell technology. The unique Ultra Micro Cell breaks down all obstacles and offers scientists and researchers a simple and easy to use product. The Ultra Micro Cell can be used for the Eppendorf Biophotometer, Eppendorf Biophotometer Plus and other spectrophotometers. In fact, researchers only need to purchase one cell because it supports all Z-Dimensions (8.5 mm, 15 mm, and 20 mm).
Founded in 1958, NSG Precision Cells, Inc. is a highly regarded manufacturer that provides quartz flow cells such as the Ultra Micro Cell, quartz cuvettes, quartz microchips, quartz flow channel cuvettes and other quartz products. NSG is also a member of the Tosoh Quartz Inc. family, who is a worldwide company that has supplied outstanding products and progressive technology since 1935.
At NSG Precision Cells, quality and customer care are of utmost importance. Each individual cell is thoroughly tested and examined in a Class 5 clean room before leaving the factory. The cell is examined for optical, physical and possible functional defects. The inspection guarantees superiority and reassures customers that they receive a cell that exceeds quality standards and optimal performance. Being ISO9002 certified for quality assurance in servicing, installation and production, NSG keeps their quality at paramount standards.
The Ultra Micro Cell
The Ultra Micro Cell has an exclusive design that assures superior reproducibility. Not only can the micro cell be used in any UV-VIS spectrophotometer but it is ideal for the Eppendorf Biophotometer and Eppendorf Biophotometer Plus. It offers a wide array of features that meets the needs of today's laboratory. The Ultra Micro Cell fits into the standard 10 mm spectrophotometer cuvette holder without the anxiety of alignment issues. Furthermore, it offers fast and extremely convenient access to the micro-sample chamber.
The NSG Ultra Micro Cell can save laboratories a lot of frustration, time and money. It is a stress-free micro cell that has an easy to remove sample holder to prevent spills. Additionally, there are no caps, nothing to screw or unscrew and nothing to disassemble or reassemble. It is the perfect micro cell for the scientist or researcher in need of solutions.
One of the key features of the Ultra Micro Cell is its unique optical layout. Its architecture is designed to assure perfect uniformity of light passing through entire samples. Compared to the micro cell that comes with the Eppendorf Biophotometer and Eppendorf Biophotometer Plus, NSG is definitely superior. Their micro cell is suitable for a wavelength from 190 nm to 1,100 nm, NSG offers an unmatched wavelength of 190 nm to 2,000 nm. As well, the micro cell that comes with the machine uses caps whereas the NSG micro cell requires no caps or assembly making it a more time and cost effective product. In addition, the Ultra Micro Cell has a small sample size of 1.9 microliters. If fact, NSG offers custom sample sizes available down to <1 microliter.
Quality Assurance
To reduce the stress of ordering, NSG has on demand shipping to qualified customers. Furthermore, the company not only works with OEM companies but the factory is set up to make all project sizes from 1 piece to 1,000 pieces. NSG feels that all customers are important and that no job is too big or small.
NSG provides services to customers within the United States as well as worldwide. They are recognized as a world leader in the silicon industry for their reputable and advanced technology, accrued knowledge and superior quality. In effect, NSG guarantees that their micro cells and silicon products meet laboratories high quality standards in all respects such as assembly, transmission and matching-everything. For assurance, each cell is inspected though a fastidious quality control system.
The Ultra Micro Cell is an outstanding innovative advancement in silicon technology that can save scientists and laboratory workers time and money. The cell can be applied to DNA, RNA, proteins and nucleic acid analysis. It is for all applications where small size and accuracy is needed such as the Eppendorf Biophotometer and Eppendorf Biophotometer Plus. Additionally, it is used for repeatability of analyses and where ease of use is very important.