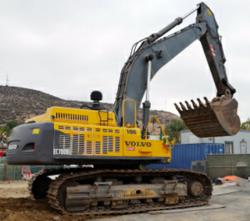 "These are high-dollar items that can be used for so many different businesses. Someone is going to get a great deal on this heavy equipment." said Hanks
San Diego, California (PRWEB) August 13, 2012
California's housing market is at an all time low, and some local construction companies are being forced to sell off their equipment that consistently sits idle. Cal Auctions is poised to help local businesses liquidate their assets through online auctions.
"There are still businesses around the world that are buying equipment – it is our job to find those buyers and turn them into auction customers," said Jason Hanks, CEO at Cal Auctions.
The items in the auction could give your demolition, gold mining, or construction business the power and equipment that it requires and best of all, you get to pay your price for it. The 2006 Volvo Excavator with Geith attachments only has 1900 hours of use on it! The Bomag Compactor is in like new condition and the 4 Ford 4x4 Crew Cab Pickups will be a great addition to your fleet.
"These are high-dollar items that can be used for so many different businesses. Someone is going to get a great deal on this heavy equipment," said Hanks.
For more details and to bid on the items that Cal Auctions will be selling at the Construction Equipment Auction visit here where pictures and descriptions of the items will be available. There will also be an opportunity to preview the items on August 20th from 8AM – 4PM. The online auction will begin to close on August 21st at 10:31AM.