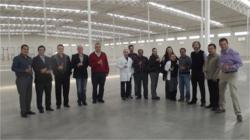 Here's what I see all across this great company - people working together to make Sigmatron a better place to work, to grow and pursue dreams. Now Vesta is part of those dreams. - Elias Laniado, Vesta Regional Director
Tijuana, Mexico (PRWEB) August 01, 2012
Set in a strategic location, in the southeast of Tijuana, SigmaTron's new facility is a 112,109 SF building located at El Potrero Vesta Park. It is only 6.2 miles from the US Otay Border and is surrounded by an abundant labor pool of skilled workers, easy access to public transportation with its own security in a fully fenced facility.
Building on over 25 years' experience, SigmaTron International provides exceptional manufacturing and supply chain services, allowing its customers to focus on their core business activities like product design, marketing and business development.
The company also provides services to its customers including automatic and manual testing of products, material sourcing and procurement, design manufacturing and test engineering support, warehousing and shipment services and assistance in obtaining product approval from governmental and other regulatory bodies.
Headquartered in Elk Grove Village, Illinois, the company operates as an independent provider of electronic manufacturing services (EMS), which includes printed circuit board assemblies and completely assembled (box-build) electronic products. SigmaTron has facilities in Elk Grove Village, Freemont and Hayward in the United States, Acuña and Tijuana in Mexico, and Suzhou-Wujiang in China.
SigmaTron's expansion in Tijuana will continue to increase the workforce in the next 18 months.
About VESTA
Vesta is one of the leading industrial Real Estate companies in Mexico, and owns more than 11.4 million square feet of industrial buildings for lease. With presence in 11 states within the country and 95% of its customers being mulnational firms Vesta has been able to provide the ideal space for companies looking to expand their operations in Mexico.