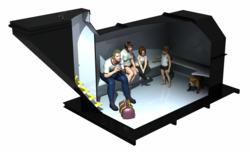 Survive-a-Storm Safe Rooms and Storm Shelters Save Lives
Thomasville, Georgia (PRWEB) August 01, 2012
The Ohio Emergency Management Agency announced today that it will be funding the installation of FEMA 320 and 361 safe rooms (also known as tornado shelters) for Ohio residents. The program will provide reimbursement for 87.5% of the cost of installing a shelter up to a maximum of $6,000.
The Ohio EMA has launched a website to allow interested residents to add their name to a list. A random drawing will be held to determine who will receive assistance under the program. The deadline to sign up is 5 PM on October 1, 2012. Those whose names are selected at random will be notified by October 5, 2012.
A number of conditions and restrictions apply, so anyone interested in the program is encouraged to visit the Ohio Emergency Management Agency's website for complete rules and instructions.
According to Matt Williams, Vice President of Government Affairs for Survive-a-Storm Shelters, "This is one of the best programs that we have seen anywhere in the country. Survive-a-Storm Shelters has installed hundreds of residential safe rooms and tornado shelters and is actively building community storm shelters to protect in excess of 100 people. As a resident of Northeast Ohio, I have experienced severe wind storms firsthand. It's great that the state of Ohio is implementing this program to help protect its residents."
Survive-a-Storm Shelters is currently arranging to display its shelters at various locations throughout Ohio over the coming months. The company also offers temporary financing options to assist those who might otherwise not be able to afford the initial upfront cost of installing their shelter, as the program requires that the homeowner pay the entire cost of their shelter and then be reimbursed by the state.
Any community or organization wishing to arrange a storm shelter demonstration should contact Matt Williams at 229-226-0911.
Survive-a-Storm Shelters is a division of Harbor Enterprises, LLC, a Georgia based manufacturer of steel storm shelters, disaster housing, and EPA SmartWay Verified aerodynamic trailer side skirts. Harbor Enterprises and its affiliated companies have completed over $60 million in FEMA funded projects over the last decade and currently holds a $153 million contract with the U.S. Department of Homeland Security and FEMA to build disaster housing.