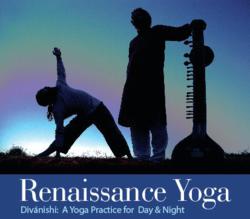 Satyam, this is wonderful!! Have used it 3 nights in a row now – think I might finally get a consistent home meditation practice going with these podcasts. Thank you!
Galesville, MD (PRWEB) August 14, 2012
Renaissance Yoga founder Satyam Kumar today announced his newest podcast, "Meditation ~ Inner Presence" as a way for beginners to experience the benefits of meditation and for seasoned practitioners to advance their practice – free and in the comfort of own home. Yoga and meditation have proven health benefits. From the mental benefits, such as stress relief and enhanced concentration – to the physical benefits, such as reducing blood pressure and improving overall fitness – yoga and meditation are increasingly more important in managing today's demanding and fast-paced way of life.
Renaissance Yoga's growing body of free meditation podcasts offers a dynamic range of practices and techniques offering full mind-body relaxation sessions known as yoga nidra, as well as numerous meditation podcasts, including pranayama, a specialized breathing technique. Most importantly, no prior yoga or meditation experience is needed.
Satyam Kumar began his journey into the realm of yoga in 1991, while living in northern California. Satyam was initiated into yogic meditation, and toured India in 1993 and 1994 to learn more and deepen his practice. Over the better part of the next decade Satyam took a series of trips to live with his acharya, or yogic monk.
Following in the ancient master-disciple relation, Satyam was blessed with the opportunity to learn many of the cherished teachings of yoga in a personal and intimate way. It is this foundation of practice that he seeks to share today. With 20+ years of personal practice, 16 years of teaching experience, and a lifestyle rooted in yogic ideals, Satyam draws from a wealth of knowledge and insights.
In keeping with the yogic tradition, these podcasts come absolutely free. Listeners may play these podcasts directly from the Renaissance Yoga blog or download them onto an iPod or portable player with iTunes. These podcasts are available for use, download and listening in order to reduce stress or relax at any time.
For those who want to continue on in their practice of yoga, Renaissance Yoga suggests Satyam's CD, Divanishi, which offers yoga and meditation practices for both day and night. This CD also features Satyam's musical partner, Anthony Malatesta, on sitar. Together the two create a truly wonderful medium to experience and practice.
This CD has been sold at Whole Foods, local shops and wellness gatherings, and is available on i-Tunes. Customers that choose to purchase the CD directly from Renaissance Yoga will receive a color-printed booklet of all the poses. Renaissance Yoga looks forward to sharing the many benefits and joys of meditation with both newcomers and veterans of the yoga community. Namaskar.
About Renaissance Yoga
Established in 2005, Renaissance Yoga offers authentic yoga classes and seminars at affordable prices for people of all levels and backgrounds. All our offerings incorporate a holistic approach to the practice of raja yoga including an overview of yogic philosophy, Sanskrit terminology, ancient life principles, health guidelines, inspirational stories, and more. Our classes and seminars are held throughout Anne Arundel County (MD), Calvert County (MD), and the greater Washington DC area. Renaissance Yoga is a member of the Southern Anne Arundel Chamber of Commerce (SAACC).
Satyam is a Registered Yoga Teacher (E-RYT 500) with Yoga Alliance of North America and is also the founding director and lead instructor of Renaissance Yoga. During the 1990's, Satyam pursued and completed his yoga teacher training in India. His initial interest in meditation grew over the days, months, and years into a holistic lifestyle based on the principles and tenets of yoga. In total Satyam has been practicing yoga and meditation on a daily basis for 21 years and has been teaching yoga for 16 years, including the last 7 years in Anne Arundel & Calvert Counties (Maryland). In addition to his background in yoga, Satyam holds an undergraduate degree (B.A.) in philosophy as well as a professional degree (M.S. Ed.) in Educational Leadership & Community Education.