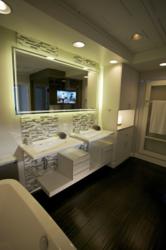 It's spectacular! It tops it off !
Margate,Fl (PRWEB) August 01, 2012
In just a few days, Matt took an ordinary bathroom and turned it into a luxurious spa in the Modern Massive Bath Makeover with just a few new fixtures, some gleaming ceramic tiles, a new polished wood floor, beautiful open shelving, and DCT's 208 Hyde Park faux tin glue-up tiles.
The White Matte finish of these tiles fit in perfectly with the sophisticated monochromatic black, grey, and white color scheme. Open shelving and streamlined sinks added to the feeling of sleek elegance. These tiles are also available in additional finishes including Pearl White and Silver.
Bath Crashers airs Mondays at 10:30pm Eastern and Pacific time and 9:30pm in the Central and Mountain Time Zones. Video can be viewed at DYI Network's website at anytime.
With headquarters in Florida and distributors and installers throughout the United States and select overseas locations, Decorative Ceiling Tiles.NET is the online leader in the sales of decorative ceiling tiles.