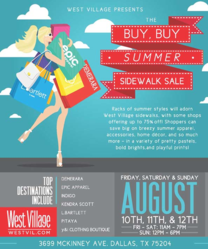 Dallas, Texas (PRWEB) August 01, 2012
DEMERARA will be partaking in West Village's annual "Buy, Buy Summer Sidewalk Sale," August 10th, 11th, and 12th. The sale is meant to attract customers with great deals, while allowing the center's stores to clear out summer merchandise and allot room for the fresh and innovative styles fall has to offer. Sidewalks of the Village will be trimmed with racks of summer's hottest styles of apparel, accessories, and home decor in the brightest and boldest colors, with savings of up to 75%.
The store, specializing in contemporary men' and women's collections, carries a variety of day-to-night wear and accessories. In ringing out the summer fashion season, DEMERARA will honor 50% off of all sale merchandise, 30% off of all shorts and hats, and 20% off of all regular-priced apparel. Complimentary refreshments will also be served as shoppers seek out the best deals DEMERARA has yet to offer. Be sure to share the news, as the early birds tend to catch the best bargains of the semi-annual sale.
Store hours are as follows:
Friday, August 10th- 11:00am-9:00pm
Saturday, August 11th- 11:00am-9:00pm
Sunday, August 12th- 12:00pm-5:00pm
3699 McKinney Avenue | Suite 405 | Dallas, TX 75204
Contact: Sophia Rajmattie
Phone: (214) 241-6559
Cell: (817) 584-2500
Email: socialnetworking(at)demerarausa(dot)com