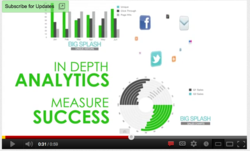 In the business world where 1 or 2% difference in conversion rates can mean millions of dollars to retailers, this is great news
AUSTIN, Texas (PRWEB) August 01, 2012
Cinsay, a leader in social video commerce technology, has announced today compelling conversion statistics for their Smart Store™ technology. The world's first-ever technology combines video with ecommerce, donations, and lead generation all inside a patent-pending platform called a "Smart Store". The company's analytics show conversion rates averaging approximately 9% and 'click to take action' activities beyond the conversion ('take action' conversions divided by item clicks) average an unmatched 42%. 'Click to take action' includes ecommerce, link outs, donations, and lead generation or 'request for information' features. "In the business world where 1 or 2% difference in conversion rates can mean millions of dollars to retailers, this is great news", said Christian Briggs, CEO and Founder of Cinsay. "We've already seen all the compelling data showing how video increases sales for products and services. Cinsay seamlessly uses that technology to offer consumers donations and commerce directly inside the video," Briggs added. Businesses and individuals are recognizing what the technology can do for there business. Since launching the Smart Store platform at DEMO Spring 2012, Cinsay has seen an increase in registrations/sign-ups of nearly 2,100 for its video commerce platform; up dramatically from just a few beta testers earlier this year.
Use of Online Video is Exploding
The growth of video for both online and mobile is rapidly expanding. According to a study by comScore, between February 2011 and February 2012, video views and creation of media grew by 660%. In June alone, over 180 million Americans viewed a staggering 33 billion videos online. However, the challenge for merchants has been the ability to actually monetize that rapid expansion and viewership. Cinsay provides viewers the ability to shop directly inside the video versus linking out to other static pages. The additional steps to make a purchase or donation have also shown to increase cart abandonment; Cinsay's technology can reduce those additional steps. Additionally, Cinsay has added in-depth analytics for merchants to measure views, shares, take action, conversions and more in order to optimize their store's performance and success.
People are watching and sharing video like never before and much of that media is related to products and services. In fact, Media Post and Website Magazine reported that consumers were captivated by video 60% of the time it was presented to them and that 52% of viewers reported having 'more confidence' with their purchases when ecommerce was accompanied with video. And the same data translates beyond ecommerce to donations and lead generation. For example, Sneak Peeq, a leading social shopping company, used Cinsay to acquire new customer leads. "We worked with a lot of other companies in the past and the results just weren't impressive. Cinsay's use of cutting-edge technology in video ecommerce and social media have really given us the competitive advantages we need for amazing ROI," said Judy Zhu, Chief Merchandiser at Sneak Peeq.
Mobile Commerce is coming fast
Use of mobile ecommerce is predicted to accelerate over the next few months and years. Furthermore, ABI Research reported that by 2017, 24.4% of commerce would be executed via mobile devices. And according to Gartner Media Group, viewing video on tablets and Smartphones will increase by as much as 36% over the next 12 months. Cinsay is poised to meet this demand for merchants with its recently released iPhone app and Smartphone player. Merchants can download the Cinsay iPhone app for free from the iTunes store and use it to upload video and pictures to their Smart Store's library. Viewers can now watch, shop and interact with content from those stores just as they would online using a computer. "Now, merchants and shoppers can be connected anywhere, at anytime. Using Facebook, twitter, tumblr and mobile devices, Smart Stores can now go anywhere the audience can go", said Briggs. Cinsay will be adding even more compelling features to the Smart Store in the coming weeks. For more information on Cinsay, Sneak Peeq's success story and to see a Smart Store in action, visit us at: http://www.cinsay.com/successstories/
About Cinsay, Inc.
Cinsay has created a next generation eCommerce, viewer interactive, video-based platform for any size businesses. Cinsay's SaaS based technology enables anyone to sell products, capture donations, and generate leads all inside the patented Smart Store. Cinsay also manages end-to-end social media and blogger campaigns through its ten million plus blogger network. Customers are offered a complete turnkey business via merchant account services as well as an exclusive on-demand solution featuring dozens of personal, brandable products like t-shirts, caps, mugs and iPhone covers. Self-managed and managed customers benefit from Cinsay's in-depth reporting tools and real-time statistical data. Cinsay's embeddable platform is compatible with web and mobile HTML5 devices and is highly scalable via its enterprise-level hosting and distribution network. Forbes has named Cinsay as one of "America's Most Promising Companies" and by eTail Conferences as a "Rising Star" in innovation for 2012.
About Smart Store™ Technology Conversion Rates
The industry average for ecommerce conversions is around 1.5% for traditional, static-page shopping experiences. Video and social media are two factors, which have shown to influence buying behavior into higher conversion rates. The Cinsay Smart Store™ technology uses both video and social media as well as offering shoppers the ability to purchase 'inside the video'. While many of Cinsay's clients experience higher conversion rates (which are derived from using Cinsay's own proprietary software systems), the company and the technology itself does not guarantee the same results for all users. The success of ecommerce and 'take action' conversions are influenced by many factors including: incentives, price, product, service, brand, audience, value, design and presentation of the promotion as well as outside market conditions and events. Results for the data reported were measured for deployed Smart Stores from May 1, 2012 to July 31, 2012.