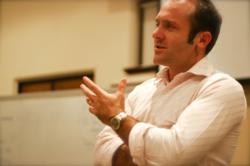 Four out of five UK teens are accessing Internet pornography on a regular basis.
(PRWEB) August 01, 2012
Founder of new website stopusingpornography.com, Jonathan Doyle is reaching thousands of people on a regular basic with a rapidly growing body of information about the impact of pornography on children, adolescents and adults.
The new website is another resource in a suite of programs including schools based DVD curricula, MP3,s weekly podcasts, books and live seminar programs.
Doyle recently appeared on national television to debate the impact of pornography upon young people and aims to shift the debate to being less one about morality and increasingly one of public health.
He states, "For many years lone voices have tried to raise public awareness about the impact of pornography from a religious and moral perspective. This is appropriate as all the major world religions have a strong position on the issue and we need to remind ourselves that despite what we might think from watching TV, the world is actually becoming increasingly religious.It is a very valid perspective no matter how much it may be excluded from the public square."
He continues, "What has been lacking is the need to shift the debate to increasingly one of public health. We have a vast and growing body of peer reviewed research showing us that pornography and Internet addiction have very clear and identifiable impacts upon brain structure and neurochemistry. Given the plasticity of adolescent brains we have no long term data on what this is going to mean. This is the guinea pig generation."
One major Chinese study on Internet addiction demonstrated that the large overproduction of dopamine can eventually lead to an overall reduction of frontal lobe grey matter. Other studies show a reduction in inhibition and issues with hypo-frontality.
Doyle stated, 'In only the first few weeks sincce the site went live we have been pleased to see thousands of visitors from around the world looking to find out more.