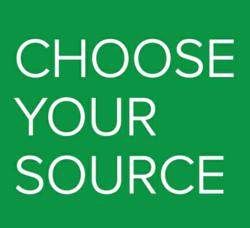 If you care about your body and what you put into your body, the first place to look is at the source of your food.
Irvine, CA (PRWEB) August 02, 2012
Tangut USA Corporation, known for its unique pollution-free Tibetan source, partnered with the Pure Source Initiative to promote its "Choose Your Source" campaign and hopes to spread a viral message that will both educate and resonate with consumers about the importance of choosing a pure source when purchasing health products.
Why Choosing Your Source Matters
The typical consumer may not be aware of the source of most food or health products or may not deem this as a high priority in making purchase decisions, often selecting brand, price or quantity over source. Tangut USA, in partnership with the Pure Source Initiative, hopes to change this perspective.
Through a cleverly designed viral campaigned that is scheduled to launch in September and entitled "Choose Your Source," the Pure Source Initiative, aims to influence consumers to re-shift their priorities, placing source at the forefront of purchasing decisions.
The group's "modus operandi" or operating stance states that, "If you care about your body and what you put into your body, the first place to look is at the source of your food."
Diana Yuen, CEO of Tangut USA adds, "By shifting the public conscience to focus more on source, we hope to raise awareness of the existence of pure lands and ecosystems which allow the natural, unadulterated growth of plants and herbs, yielding fruits that are powerfully rich in nutrients and virtually free from pollution."
Pollution in Food and Dietary Supplements
According to the Environmental Pollution Centers, more than 70 million cases of food-borne illnesses occur in the U.S. each year and result in approximately 5,000 deaths annually.
Pollution is the presence of toxic chemicals or biological contaminants which are not naturally present in food or are above their natural levels. The effects of pollution include mild to severe food illnesses. With extended use, polluted food or supplements may lead to the development of serious health problems such as hormonal and metabolism issues, or even various types of cancer. And in rare cases, highly polluted food has been found to cause severe food poisoning or sudden death.
Many Sources of Pollution
There are many possible causes of pollution. Various herbs and plants may get contaminated through bacterial strains from irrigation water, groundwater or soil. Toxic chemicals may enter through polluted air, water, soil, treatments with pesticides, insecticides, herbicides, sewage sludge, polluted fertilizers, solid wastes, and even through processing, packing and handling.
Plants are especially susceptible to contaminants from the environment through its tendency to extract pollutants, along with water and nutrients, through its roots.
About Tangut USA Corporation
Tangut USA Corporation is a research-based company that combines the best of nature with the best of science to develop innovative health products. Its unique line of natural supplements is clinically-proven and is made with bioactive ingredients drawn from the purest organic source in the world – the pollution-free Tibetan Plateau. Its award-winning experts in research and development are recognized worldwide and share the Tangut belief of using creative and sustainable solutions to face today's health challenges and discover new opportunities for tomorrow.
For more information about Tangut USA please call 949-529-2829 or visit http://www.tangutusa.com.