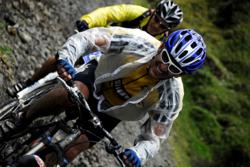 Twenty years ago I had the idea of following the footsteps of Juan de Cavallon and Perefan de Ribera ( Spanish Conquerors of 1560) in their exploration of Costa Rica. Instead of using horses we used our mountain bikes...
(PRWEB) August 02, 2012
The clock reads 92 Days : 02 Hours : 03 Minutes until La Ruta de los Conquistadores 20th Edition begins. Recognized worldwide as one of the top ten endurance races in the world as stated by TIME magazine in 2010, "La Ruta" as many call it, is an event that has survived many obstacles throughout its 20 years of life.
Roman, the race founder and director, has endured through all the good and bad things that come with fame. The event has opened doors to meet some of the most memorable of individuals as well as it has attracted those who believe life provides self entitled rights which enable for them to share, take or even dampen the glory of success.
And so it is that Roman himself is what truly makes this event so different and unique. He is the heart and soul of the challenge. Taking it further, he was the godfather of multistage mountain biking twenty years ago when few, if any, had the heart or interest to share what began as a personal challenge with the rest of the world.
Many of the present multiphase mountain bike races were born from, or were designed in the likes of La Ruta. Some of them have become very successful, big money making machines that process racers through courses of endurance challenge. More power to them I say, but in the end only when you participate in La Ruta do you get the chance to live the reality of a spiritual journey, hand in hand with this unique individual who cares about each and every one of the people who have the courage to take this immense character building experience.
Roman once got a letter from a foreign racer who found himself in disbelief - he had written regarding some recommendations on the training arena when he received a 24hrs response from Roman. He did not understand why Roman himself was taking the time to respond to him - and that is exactly what proves the point. Fame has not changed him. Fame and all that fame brings as mentioned above, have kept his humbleness and humanity at hand.
This year the event takes a fresh - yet known - form. This special edition of the challenge take us "Back to the roots". As it was in the beginning. As it was before all the setbacks. As it was before all the glorious moments. Back to the origins. Back to basics.
Crossing Costa Rica coast to coast in three days is an opportunity to test stamina, endurance, heart and soul. Mostly soul and the strength within, hand in hand with Roman himself still shadowing each and every competitor's growth journey.
This is the first year the event is also available for registration at Active.com, one of the best and only sport event registration platforms. Take a personal inventory on soul searching and take the challenge!
For more information about La Ruta de los Conquistadores 20th Edition please contact Roman Urbina at 1.888.885.3435 or click here to visit La Ruta's website.