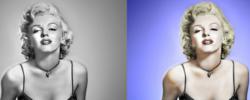 She is the one who put the beauty in beauty marks.
New York, NY (PRWEB) August 01, 2012
It is the biggest small spot the world has ever seen. The infamous Marilyn Monroe beauty mark remains one of her biggest features remembered 50 years after her death. It has left an indelible mark on American fashion, style, and cosmetics. Many attempts to duplicate it are made by celebrity women in Hollywood, and every day women in front of a mirror. But permanent makeup artist Sally Hayes announces a "retro" approach to it. In the first part of the industry expert's 5-part tribute to Marilyn Monroe, she aims to leave her own unique mark on this beauty mark legacy by following the classic real estate saying, "Location - location - location."
"You won't find more prime real estate in the beauty industry than the face of Marilyn Monroe," says Hayes, a leading professional who has performed tens of thousands of permanent makeup procedures including many celebrities in a career spanning more than 25 years. "If I had the dream opportunity to work with Marilyn, and she wanted to do a permanent makeup beauty mark, I would have placed it just below her bottom lip to the left side. This is often where women in the 1950's-60's drew them. You also have to remember a beauty mark draws attention to an area, and I would have wanted to showcase her amazing lips as much as possible since they were one of her best features, and a truly groundbreaking look for her era."
A frequently asked question in 2012 is, "Was Marilyn Monroe's beauty mark real?" Most reports say it was a natural feature on her left cheek but she covered it up early in her career. When one looks at a variety of Marilyn Monroe photos, you'll actually see the beauty mark appears in different places on her magnificent face. Thus, she likely used a pencil to draw them. Today, the "Monroe piercing" is now a popular lip piercing technique which is placed above a woman's lip on the left side to resemble Marilyn's beauty spot.
"Imitation is a form of flattery, but when it comes to permanent makeup beauty marks, trying to copy Marilyn Monroe is often not so flattering to a person," says Hayes, who specializes in permanent makeup designed to blend naturally with a woman's skin tone in enhancing her facial features. "Not all beauty marks are a thing of beauty. In fact, I rarely do them because they often end up looking like nasty blackheads once the pigment spreads in the skin's pores. Therefore, if a woman is considering one, use the color brown, never black. Honestly, I advise clients who want beauty marks to simply draw them on with a pencil, use a translucent powder on your face, and wash it off at the end of the day."
Hayes believes time has proven Marilyn Monroe had the rare power to do whatever she wanted with her face, and the courage and confidence to let the whole world see it. Hayes adds, "She is the one who put the beauty in beauty marks."
About Sally Hayes Permanent Makeup
Sally Hayes is the nation's leading permanent makeup expert artist. Since 1988, she has performed tens of thousands of successful permanent makeup procedures creating eyebrow tattoos, permanent eyeliner, permanent lip makeup, and cosmetic camouflage. Many of the finest cosmetic surgeons across the U.S. endorse her and refer their patients to her. She has offices in New York, NY, Scottsdale, AZ, Las Vegas, NV, and Los Angeles, CA, the city where Monroe was buried. Her popular website is viewed as the leading authority for online information about permanent makeup.
For more information, visit http://www.permanentmakeup.com.