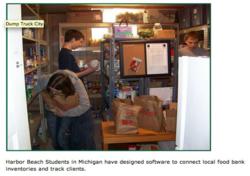 "Imagination is the source of every form of human achievement. And it's the one thing that I believe we are systematically jeopardizing in the way we educate our children and ourselves." ~Sir Ken Robinson
(PRWEB) August 01, 2012
This is the beginning…
The beginning of a project that changes the game in American education.  
That presents a viable alternative to the ubiquity of standardized testing.
That disrupts this $20 billion industry.  
That values student learning and contributions to real world problems.
That facilitates meaningful investment in education from business leaders, community and government leaders.
That strengthens the pipeline of young talent into critical fields.
That allows students to enjoy school and schoolwork.
Finally…
Justin Lyon, author of the ebook 'The Refresh Button: Why Schools Need to Hit It,' is launching StudentsAre, a project to redefine student achievement and build a better world though education.
Check out StudentsAre's campaign page on Indiegogo, the crowdfunding site, and view StudentsAre's pitch, leave a comment, and contribute to the project.
Assessment drives teaching and learning in classrooms. This doesn't have to be a bad thing. We can use this to our advantage.
Instead of placing insane stakes on end of course standardized tests, which have a stranglehold on student inquiry, curiosity, critical thinking, problem solving, effective presentation skills, and passionate love of learning and have deteriorated teacher morale and confidence in our schools to the lowest levels in years, we need to place a value on assessing meaningful, authentic student learning.
Right now, many might argue that widespread standardized testing to assess student learning for all U.S. students is the best we have.
StudentsAre hopes to change that.
We hope to build a closed social network that enables secondary and postsecondary students to share examples of critical thinking, problem solving, and presentation with a panel of professionals across a variety of fields and disciplines and allows these professionals to provide meaningful feedback to students, engage in dialogue about students' future plans and interests, and offer internships, summer job opportunities, and even full time employment.
Who better to assess a student's ecology project on sustainable ecosystems than ecologists working on solutions for this everyday?
Assessment driving teaching and learning can be a good thing. StudentsAre hopes to build an assessment platform that will drive more authentic, project-based learning to solve real world problems in classrooms AND provide a feasible means to assess it on a mass scale.
This is the project. This is the game changer. This is the force of disruption.
And WE NEED YOUR HELP. Engage with our Indiegogo campaign. Check out our website. Like us on Facebook. Follow us on Twitter. Tell your friends, family, coworkers, and community. Put pressure on schools and businesses.
**Contribute HERE** http://www.indiegogo.com/redefineachievement?show_todos=true&a=954230 (Indiegogo Campaign)
Links:
http://www.studentsare.com
http://www.facebook.com/StudentsAre
http://www.twitter.com/StudentsAre
http://itunes.apple.com/gb/book/isbn9780615644264 ('The Refresh Button: Why Schools Need to Hit It')
We need true investment in education. Our future is at stake...
[Justin Lyon is the founder of StudentsAre and author of the ebook 'The Refresh Button: Why Schools Need to Hit It.' He is a former high school math teacher and current graduate student in education curriculum and instruction.]