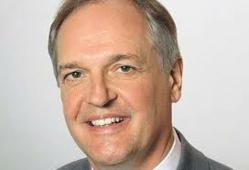 We are humbled that the Global Peter Drucker Forum is now recognized around the world as a premier venue to wrestle with key issues.
Vienna, AUSTRIA (PRWEB) August 01, 2012
Paul Polman, the chief executive of Unilever, has been added to the roster of speakers at this year's Global Peter Drucker Forum, to be held in Vienna on Nov. 15 and 16.
The theme of the 2012 Forum is "Capitalism 2.0: New Horizons for Managers," and it's in this context that Polman will speak on the subject of "business as a force for good."
"Polman's remarks will tie into what the late C.K. Prahalad indicated at our Forum in 2009: Business must be an instrument of social justice," said Richard Straub, the president of the Peter Drucker Society Europe, which is an affiliate of the Drucker Institute at Claremont Graduate University.
Rick Wartzman, the Drucker Institute's executive director, noted that Polman joins what he called "an already extraordinary roster of speakers and panellists," including Patrick Deconinck, senior vice president for Western Europe at 3M; Peter Y. Solmssen, a member of the Management Board at Siemens; and Patrick de Cambourg, the president of Mazars.
Roger Martin, dean of the Rotman School of Management at the University of Toronto, who was named last year by Thinkers 50 as the No. 6 management thinker in the world, will deliver the Forum's opening keynote: "Can Capitalism Be Fixed?"
A number of other leading management thinkers will also have prominent roles at the Forum. Among them: Tammy Erickson, the London Business School's Lynda Gratton, Havas Lab director and author Umair Haque and John Quelch, the dean of the China Europe International Business School (CEIBS).
The Forum will feature practical discussions on models that move beyond "maximizing shareholder value," scholarly input based on a call for academic papers, and the perspective of younger people who participated in the Peter Drucker Challenge, a global essay contest.
"We are humbled that the Global Peter Drucker Forum is now recognized around the world as a premier venue to wrestle with key issues of management and society," Straub said. "No one can provide easy answers to today's greatest challenges, but we can have a serious dialogue that at least begins to move us in the right direction."
About the Drucker Institute
The Drucker Institute at Claremont Graduate University is a think tank and action tank whose purpose is to better society by stimulating effective management and responsible leadership. It does this, in large part, by advancing the ideas and ideals of the late Peter F. Drucker, the father of modern management.
To meet its mission, the Institute hosts collaborative forums for executives from across all sectors; works with high school and middle school students to teach them basic management principles and equip them with lifelong tools for effectiveness; produces curricular material that distills Drucker's decades of leading-edge thinking, including a management training system called the Drucker Management Path; and acts as a hub for a worldwide network of Drucker Societies: volunteer-driven organizations that are using Drucker's teachings to bring about positive change in their local communities.
In addition, the Institute maintains a digital archive of Drucker's papers and other holdings related to the fields of management and leadership; undertakes research that builds on Drucker's writings; offers an annual $100,000 prize for nonprofit innovation; applies Drucker's work to current events (through a regular online column on Forbes.com by Institute Executive Director Rick Wartzman; a blog called the Drucker Exchange; and a monthly radio show called "Drucker on the Dial"); and hosts visiting fellows with Drucker-like insights and values.
The Institute is a close affiliate of the Peter F. Drucker and Masatoshi Ito Graduate School of Management , which is training the next generation of leaders and managers to do good while they do well.
Follow us on Twitter @DruckerInst.
About Claremont Graduate University
Founded in 1925, Claremont Graduate University is one of the top graduate schools in the United States. Our nine academic schools conduct leading-edge research and award masters and doctoral degrees in 22 disciplines. Because the world's problems are not simple nor easily defined, diverse faculty and students research and study across the traditional discipline boundaries to create new and practical solutions for the major problems plaguing our world. A Southern California based graduate school devoted entirely to graduate research and study, CGU boasts a low student-to-faculty ratio.