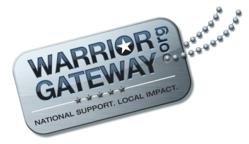 "As we look forward to an exciting future, we also look back and extend our gratitude to those who have helped get us to where we are today. Thank you for all your support!" said Warrior Gateway CEO, Devin B. Holmes
Arlington, VA (PRWEB) August 01, 2012
The Warrior Gateway team is proud to announce that as of August 1st, 2012, Warrior Gateway Inc. will begin to operate as an independent entity.
Started as a project in 2009, Business Executives for National Security (BENS), a Washington DC based non-profit, offered their legal and tax-exempt status, a practice known as fiscal sponsorship, to help launch and grow the Warrior Gateway project to the level it is today. Completing this relationship and beginning independent operations is a milestone achievement for this new non-profit, Warrior Gateway Inc., and represents an exciting growth opportunity as a new chapter opens for the organization.
The idea to find a better way to help the entire military community easily find information on local non-profit and government support resources was conceived by General Charles Boyd, U.S. Air Force (Ret.) and Admiral Mike Mullen, U.S. Navy (Ret.) in 2008. At the time, General Boyd was President of BENS and Admiral Mullen was the Chairman of the Joint Chiefs of Staff.
"I continue to be grateful and honored for the support of General Boyd and Admiral Mullen showed during these initial three years of Warrior Gateway's history " said Devin B. Holmes, Warrior Gateway's CEO. "Their guidance and the support of the BENS membership have helped us grow and reach the military community. On behalf of the entire team, I extend my thanks and look forward to their continued support as we move forward as an independent organization."
WarriorGateway.org, the portal to help the military community find help with employment, health needs, education and a range of other transition needs, was launched in March 2010 with 15,000 listed organizations and has grown to over 45,000 listed organizations since then. Looking ahead, the Warrior Gateway team is in the process of launching a new program called the G.I. Network that will further expand that listing to over 220,000 organizations and is partnering with non-profits and government organizations to ensure fast and open access to this new network.
To learn more about Warrior Gateway and their G.I. Network, visit http://www.warriorgateway.org