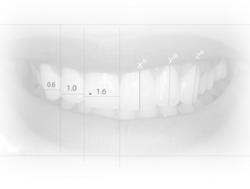 A smile lasts but a moment, but the memory of it may last forever.
San Francisco, CA (PRWEB) August 03, 2012
Millions of people have had to deal with cosmetic shortcomings of their teeth at one point. Some inquired about cosmetic dentistry and received dental implants, porcelain veneers, and complex smile designs to address a variety of dental problems.
Porcelain veneers are currently the most frequently requested treatment modality of cosmetic dentistry. They increase the size of small teeth and close spaces (diastemas) between teeth. Porcelain veneers are an elegant and noninvasive way to whiten, straighten, and rejuvenate teeth.
The treatment of worn teeth is typically a little bit more complicated. The causes of dental wear have to be evaluated and eliminated prior to the placement of any cosmetic restoration. A stringent step-by-step procedure will allow the cosmetic dentist to find the so-called "home position" of the jaw, from where the new teeth are designed. Only meticulous adherence to proper treatment protocol will lead to long-term survival of the new teeth and prevent them to be worn the same way as the natural teeth before.
There are only two options today to replace missing teeth. The space is either closed by placement of a bridge which spans between the neighboring teeth or by placement of an implant, an implant abutment, and an aesthetic crown. New teeth have to be integrated with all surrounding functional elements of the mouth, jaws, and face.
The finding of a marker of dental stem cells may eventually permit an even more holistic approach in dentistry. While building a tooth from stem cells is still a dream, science is getting closer to this possibility. Researchers at the Institute of Biotechnology in Helsinki, Finland, have discovered a marker for dental stem cells (transcription factor Sox2) of the mouse.
Teeth are built by a sequence of cellular events that guide the differentiation of groups of cells to dental cells with specific functions. Some of them build the enamel layers, others the underlying dentin. Another group of cells is responsible for the development of the periodontal apparatus and tooth eruption.
While the sequence of differentiation has been known for a long time, the study of stem cells has been hampered due to the lack of a specific marker. Finnish researchers have now found the marker. They showed that transcription factor Sox2 is expressed in the stem cells of the mouse incisor. The identification of this marker permitted them to develop a method to describe the division, migration, and differentiation of dental stem cells.
Dr. Rabanus, a cosmetic dentist practicing in San Francisco, believes that the discovery of Sox2 is an important step towards growing new teeth from stem cells. He himself devoted many years to Oral Biology research before becoming a cosmetic dentist. Dr. Rabanus approaches cosmetic dentistry by evaluating all functional elements to ensure total integration of his smile designs. In his opinion, teeth are not just elements of a beautiful smile but are placed by nature for very specific functional purposes and to intimately interact with other oral and facial structures. He predicts possible reconstructive mechanisms that may take place in periodontal and bony tissues when placing in-vitro bioengineered tooth germs into the jaws. However, while Finnish research has opened a door to the development of clinical applications, cosmetic dentistry may still be a few years away from them.
Dr. Rabanus is currently the only cosmetic dentist practicing in San Francisco who is accredited by the American Academy of Cosmetic Dentistry. He has been focusing on delivering comprehensive smile designs since 1998. You can learn more about him and the many aspects of cosmetic dentistry by visiting http://www.aesthetic-dentistry.com. Dr. Rabanus lectures internationally about cosmetic dentistry and smile designs and has received outstanding reviews by his patients and his peers.