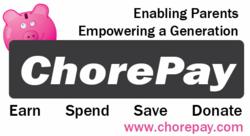 "With a free membership, a parent can manage their child's chores simply, either from their computer of through their mobile device."
Seattle, WA (PRWEB) August 02, 2012
Consumer specialist and advocate Herb Weisbaum of Seattle's KOMO News Radio spoke with ChorePay cofounder and CMO Diane Gaddis about the services the free website has to offer families. Focusing on financial education, Gaddis stressed the importance of teaching children about the value of hard work, their role in the household, and the power of a dollar earned.
With a free membership, a parent can manage their child's chores simply, either from their computer of through their mobile device via the ChorePay app. Beyond that, the website is focusing on building an online community and network of charities to which children may choose to donate a portion of their earnings.
About ChorePay
ChorePay.com provides a free online tool for parents to organize and centralize their children's chores. Beyond run-of-the-mill online chore charts and allowance tracking, this includes complete money management for the child with goals of education about saving, spending, and donating their earnings.
Founded in 2011, ChorePay is a small team of parents whose goal is to engage families and make the whole chore process not so much of a…well, chore. They believe it should be fun. Very fun.