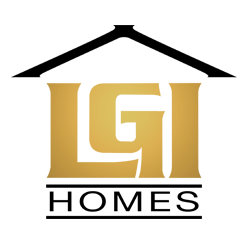 Great homes in quality neighborhoods, built in superb locations—we're just giving people what they want.
Houston, Texas (PRWEB) August 01, 2012
Texas-based builder LGI Homes proudly announces a record-breaking $34.0 million in sales achieved during the 2nd quarter of 2012—blowing away previous company records for both revenue and number of closings in a single quarter.
The winning quarter was spurred by brisk sales of the company's quality- and value-focused single-family homes, with 246 families joining the ranks of homeowners between April and June of this year. The previous record for home closings for LGI Homes was 224 closings, which was achieved in the 3rd quarter of 2011, during which time the company realized $30.7 million in sales.
LGI Homes' CEO, Eric Lipar, attributes the strong showing to the builder's unique position within the new homes market:
"Even through rough economic times, Americans naturally seek out the bedrock of homeownership as a way to stabilize their families, and tie in to their communities. Our focus on the creation of high-quality, affordable homes and attractive, family-friendly neighborhoods has really resonated with our customers—many of whom are first-time homebuyers—and these sales numbers prove it. Great homes in quality neighborhoods, built in superb locations—we're just giving people what they want."
LGI Homes' continued strong sales will inevitably get a boost when the company unveils its first new home community in Central Florida later this year. The project marks the second expansion outside of native-Texas for LGI Homes, following the opening of the well-received San Tan Heights in Phoenix, Arizona earlier this year.
About LGI Homes
Based in Houston, Texas, LGI Homes focuses on entry-level, affordable housing located in prime locations near major metropolitan centers. Their award-winning construction quality, unique sales approach, and emphasis on value has catapulted the nine-year old company into the esteem of its industry, including being named by INC Magazine as one of the country's fastest-growing companies, and being recognized by the National Association of Home Builders for its ongoing sales success. In 2011, LGI Homes was named #44 in the nation on Builder Magazine's Builder 100 List, a jump from #58 in 2010. Currently LGI Homes stands out as 5th in the nation for largest revenue increase over the previous year and 6th in closings on a percentage basis. For more information on LGI Homes, visit http://www.lgihomes.com.