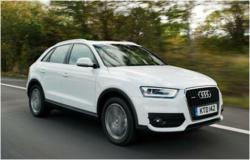 London (PRWEB UK) 1 August 2012
In addition to the existing two-wheel drive version of its 140PS Q3 compact SUV with company car tax at 21%, Audi has beefed up the offer to company car drivers with a quattro all-wheel-drive version.
The Audi Q3 2.0 TDI quattro 140PS costs from £26,510, and with CO2 emissions of 149g/km, offers company car drivers a benefit in kind company car tax banding of 23% - two bands higher than the 2WD version.
For those that pay tax at 40%, that's an additional £330 this financial year for the extra grip of four-wheel drive traction.
Business mileage costs look to be taken care of too, with 49.6mpg available from the new Q3 140PS 2.0 TDI quattro model.
There are two specifications available.
SE offers 17-inch alloys, rear parking sensors, dual-zone climate control, a Concert audio system with 6.5-inch manually retractable colour display screen, SD card slot for navigation system, Bluetooth mobile phone connectivity, Audi Music Interface iPod connection and light and rain sensors.
For the sportier look, there's the S line spec for a premium of £2,750. For this there is larger 18-inch alloy wheels, S line exterior and interior styling enhancements, xenon headlamps with LED daytime running lamps and LED rear tail lights.
What's the cost and what's the company car tax?
Audi Q3 2.0 TDI quattro SE 140PS
P11D value £26,320
49.6mpg
149g/km CO2
Company car tax band 23%
Tax payable at 20% £1211
Tax payable at 40% £2421
Audi Q3 2.0 TDI quattro S line 140PS
P11D value £29,070
49.6mpg
149g/km CO2
Company car tax band 23%
Tax payable at 20% £1337
Tax payable at 40% £2674
To work out the company car tax for all the Audi Q3 models use the company car tax calculator. For business owners this will also show fuel economy and the writing down allowances for company car management.