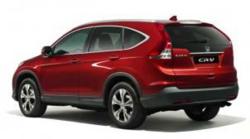 London (PRWEB UK) 1 August 2012
Just out in Japan this week there are images of the new CR-V due to hit UK showrooms in October. Since it was first introduced in 1995, over five million CR-Vs have been sold across the world and the new, fourth generation has been comprehensively redesigned for the European market and builds on the success of its predecessors with greater quality, practicality and refinement.
Following the likes of Land Rover with their Freelander, for the first time, the Swindon-built Honda CR-V will be offered with a choice of both two and four-wheel-drive on the 2.0 i-VTEC model, while improvements to the petrol and 2.2 i-DTEC diesel engines have achieved a reduction in carbon dioxide emissions.
The Honda CR-V 2.0i VTEC now emits 174g/km of CO2, the 2.2 i-DTEC manual, 153g/km. Which is always good news for company car drivers. Although, not that good in this case.
The new Honda CR-V is way off the pace compared to recent newcomers, such as the Mazda CX-5 SUV, with CO2 emissions as low as 119g/km for its diesel, giving it an enviable 17% company car tax banding.
The best the Honda CR-V can achieve is seven bandings up at 24% company car tax.
Anyway, what does the new Honda CR-V look like?
The new model Honda CR-V can be distinguished from its current version by a reduced height and length which has not compromised interior room and there is actually more boot space.
Compared to the previous generation CR-V, the new Honda SUV takes on a more assertive and aerodynamic stance with a bolder nose section.
The front bumper is joined by a horizontal three-bar grille and deep-set headlights. The lower front bumper is designed to convey SUV capability with a generous approach angle.
The CR-V's signature vertical rear brake lights debuted on the original model and remain but introduce a more three-dimensional style. New generation LED daytime lights are used at each end.
LED: New rear lights, revised wheel arches and more boot space set it apart
At the sides, the CR-V's large wheels and bold wheel arches further emphasise its presence and capability.
The CR-V has been designed as a global car, but the European model features a number of exterior refinements developed specifically for this market.
We will get the prices much closer to its on sale date along with the insurance groupings.
Look at our car tax calculator to see what it will cost you and then look at its rivals in our business car comparisons to help you make the best choice for your needs.
So what's the Honda CR-V like on company car tax?
Unfortunately, not very good. The best from a company car taxation point of view is the diesel, rating at 24%. And we see no point in opting for the two-wheel drive CR-V as there is no company car tax benefit in banding terms, although the P11D price is likely to be lower, so that will have a bearing on the final amount of tax payable.
Honda CR-V 2.2 i-DTEC manual, 153g/km, 24% company car tax band
Honda CR-V 2.2 i-DTEC auto, 175g/km, 29% company car tax band
Honda CR-V 2.0 i-VTEC manual, 174g/km, 25% company car tax band
Honda CR-V 2.0 i-VTEC auto, 176g/km, 26% company car tax band
Honda CR-V 2.0 i-VTEC manual 2WD, 17og/km, 25% company car tax band