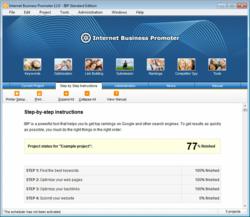 It's a win-win-win situation for businesses, searchers and search engines.
(PRWEB) August 08, 2012
Google's recent algorithm updates have caused problems for many SEO tool developers. Spamming tools that were labeled as search engine optimization tools have stopped working. Some of the more aggressive tools even got websites banned on Google.
The new SEO tool IBP 12 is an ethical search engine optimization tool that is fully compatible with Google's brand-new ranking algorithm. IBP is 100% safe to use and it only uses white-hat SEO methods that are beneficial to search engines, businesses and searchers.
IBP covers all aspects that are needed to get high rankings in today's highly competitive environment. It offers tools for backlink management, backlink building, competitive analysis, keyword research, search engine submission, content submission, website optimization, search engine rankings checks and more.
People who optimize their websites with IBP get high rankings because they deseve it, not because they have found a loophole in Google's algorithm.

The new version offers several improvements and new features:
1. fully compatible to Google's new ranking algorithm
2. a comprehensive suite of tools that considers all aspects of modern SEO
3. a much improved keyword research tool delivers the best keywords for SEO and SEM
4. a much more detailed backlink analysis
5. competitive intelligence tools
6. faster ranking checks
7. an improved user interface
8. fully compatible with Windows 8
A free demo version is available at the company website.
A lot of work and expertise has been invested in IBP 12. The developers are very confident that the users of IBP will get the best possible results. For that reason, they offer a top 10 ranking guarantee: people who do not get top 10 rankings after working with IBP, will get their money back.