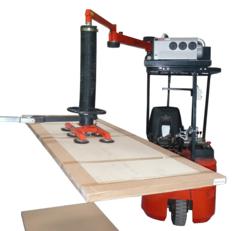 The Vacuum Lifting System for mounting onto Forklift Trucks is the ideal solution to increase efficiency and improve health and safety conditions.
(PRWEB) August 03, 2012
Packline's latest vacuum lifter, the new 'Flexframe' vacuum lifting system, is designed for installation onto forklift trucks and stacker trucks. This unique vacuum lifting system bolts onto almost any type of forklift truck or electric stacker. This vacuum lifting equipment is suitable for many different industries and environments, for example, warehouse distribution centres, order picking, building supplies warehouses and construction industries.
A wide variety of suction pads are available with a standard lifting capacity of 50kg and reach of 2500mm, with a lifting height of approximately 1500mm from pallet level.
The vacuum lifting system is supplied complete with the vacuum pump, suction pad and all necessary parts for electrical connection to the forklift truck or electric stacker truck.
The flexible frame that mounts onto the forklift truck can adjust from 1070 mm long and 770 mm wide, to 1570 mm long and 1270 mm wide.

Working area: Up to 360º, depending on installation and height of forklift mast.
Lifting tube: Diameter 140 mm.
Suction head: Diameter 140 mm, rotatable.
Arm brake: Manual arm lock.
Electric clutch on both arms can be provided as extras.
Suction pads: Exclusive suction pads.
Various types of suction pads/tools are available, depending on the items to be lifted.
This vacuum lifting system is ideal for materials handling and increased productivity. The vacuum lifter ensures weightless lifting and so eliminates physical strain. Health and Safety conditions are significantly improved.
Packline Materials Handling distributes vacuum lifting equipment across the UK and Ireland, in conjunction with their existing range of stainless and non-stainless steel lifting and handling equipment.
Packline Materials Handling has been designing and manufacturing lifting and handling equipment since 1993. The 'Compac' range of stainless steel materials handling equipment has established Packline as a leading supplier of quality roll and drum handling equipment for the food, drinks, dairy, pharmaceutical and medical processing industries worldwide.
Packline Materials Handling are able to provide bespoke lifting and handling solutions for materials handling issues involving rolls, reels and drums; by creating new concepts or tailoring existing lifting and handling equipment to meet specific requirements.
For further information on vacuum lifting equipment for mounting onto forklift trucks or the full range of vacuum lifting equipment, please contact Packline Materials Handling on +44 (0)1202 307700 or visit http://www.vacuum-lifting.com.
For Packline's full range of materials handling equipment visit us at http://www.packline.co.uk.
Packline Ltd
Unit 28
Newtown Business Park
Ringwood Road
Poole, Dorset
BH12 3LL, UK