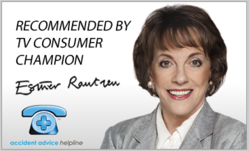 100% No Win No Fee and Free Expert Advice on Industrial Injury Compensation
(PRWEB UK) 3 August 2012
Industrial injury compensation
With today's workplaces presenting many challenges for both workers and their employers, industry experts the Accident Advice Helpline outlines some of the major problems facing industries today and what people should do if they think they are eligible to claim.
Despite advances in technology and medical advice, many people are still suffering industrial injuries in surprising ways. From diseases to muscular injuries, disabilities to cancers, workers are still suffering all types of issues that can and should claim industrial injury compensation for.
Some of the more common causes of industrial injuries that the Accident Advice Helpline deal with include deafness, cataracts, lung cancer caused by asbestos, leukaemia, inflammation of the tendons in the hand or forearm caused by working with vibrations for long periods, back and knee injuries from lifting, injuries caused by trips and falls and many more.
Despite tighter health and safety legislations being introduced all the time, it seems some workplaces are still not doing enough to keep their employees safe. The Accident Advice Helpline outlines the scale of the problem.
Illness
Somewhere in the region of 2.2 million people in the UK believe they are suffering from an illness as a direct result of their occupation
Of those, less than 20% have contacted anyone to help with a claim for compensation
Over 2000 people a year die from Mesothelioma (cancer caused by asbestos) and many more from other cancers and lung diseases related to their jobs
36 million work days are lost every year due to work related illnesses
Injuries
Whilst the number of work related deaths is on the decline, there are still in the region of 200 deaths every year as a direct result of an accident at work
Every year over 250,000 injuries are reported in the workplace
6 million work days per year are lost as a direct result of accidents at work.
Types of injuries
The profession that reports the highest number of injuries every year is the health and social care profession
The most frequently reported injuries occur in the back and upper limbs, usually as a result of lifting
Almost 50% of UK workers regularly handle dangerous substances or have to lift heavy objects as part of their day to day routine
The industries that have the highest death toll are agriculture, manufacturing and construction.
The Accident Advice Helpline notes that many people who are suffering or have suffered an industrial injury have not proceeded to make industrial injury compensation claims, either because they did not know their rights, did not realise they were suffering a work related injury or just because they were too frightened to take their employer to court. Workers should be made aware of their rights to a safe and healthy workplace and, if their employer fails to meet the requirements as set out by law, then the workers should take steps to ensure their health is protected.
Some of the applicable laws which are there to protect employees safety, include the Management of Health and Safety at Work Regulations (1992), which state that employers should assess every situation to identify risk of exposure to injury and if necessary to take action to prevent this risk. Also applicable is The Workplace Regulations (1992), which says workers are entitled to be provided with a safe, well ventilated, heated, maintained and adequately lit place to work. There are other regulations that come into play depending on the industry the employee is in, such as the Manual Handling Operations Regulations (1992), the Personal Protective Equipment at Work Regulations (1992) and the Provision and Use of Work Equipment Regulations (1992).
To many people this may seem like a lot of jargon, but it is important to understand that if the employer is in breach of any one of these regulations, the employee has a right and a duty to claim compensation for their accident or injury. To help break through the barriers, the Accident Advice Helpline has revealed 5 things that employees should expect from their employer as a bare minimum:
They employ co workers who are competent to support you in your role
The provide suitable materials for you to work with
They provide protective clothing and equipment if needed
The equipment you are asked to use is well maintained and complies with health and safety requirements
You and your co workers are properly trained to be able to carry out your job safely
The Accident Advice Helpline recommends that if any one of these criteria are not being met, then workers should alert managers and superiors to the issue. If no action is taken, they should escalate their complaints to higher level management and eventually to the Health and Safety Executive (HSE) if necessary, before an accident occurs.
If the worst does happen and an accident or injury is suffered, then the Accident Advice Helpline recommends contacting a professional for advice on industrial injury compensation as soon as possible. The sooner advice is sought, the greater the likelihood will be of processing a claim successfully and for the maximum amount possible. Not only will this payment go a long way towards helping the victims get over their injuries and return to a normal lifestyle, the action of taking the employer to court over the accident will ensue that the situation is taken seriously and that measures are implemented to avoid the same fate befalling a colleague in the future.
Companies like the Accident Advice Helpline help thousands of workers every year to claim the compensation they are rightfully entitled to. By working with some of the best industrial injury compensation solicitors in the business, the Accident Advice Helpline is able to refer victims to the most experienced solicitor for their needs, making the claim process quicker and less stressful than ever before.
Related Pages: Accident Claims Companies and Accident at work compensation