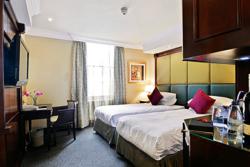 London, United Kingdom (PRWEB UK) 4 August 2012
Apart from breathtaking scenic beauty and historic buildings and structures that form it's rich heritage, London is famous for its cultural festivals and varieties of events that are held in different seasons. Thousands of people throng London from different continents to be a part of these events as they provide explorers with a golden opportunity to get introduced to the art, culture and traditions of London. Summer is a busy season in London, in terms of festivals and events. This is July and London has dressed up in varieties of colors to celebrate events, some of which are already on and some that are coming up next. This July, London is even more charming since its Olympics time. Hotels are getting packed up by minutes. Especially the hotels offering easy accesses to the Olympic venues and other events are witnessing huge inflow of guests.
The Shaftesbury Group of Hotels is among the most esteemed hotel chains in entire UK and one of the main reasons behind that is the strategic location of the properties under this hotel chain. Majority of Shaftesbury hotels are ideally positioned in London to offer easy accesses to some events that are scheduled for the next few days and months.
Hotel: Kensington Townhouse
Event: Exhibition Road Show in London's Kensington
Strategically located right in the heart of London's prestigious West End and with the vicinity of the beautiful Kensington Gardens, the Kensington Townhouse is a wonderful accommodation property where traditions still survive amidst the dominance of the contemporary. This July, Kensington Townhouse is going to be your perfect accommodation choice if you have interest in history and culture of London. This is because the hotel offers a very easy access to Exhibition Road Show in London's Kensington. The Exhibition Road is considered as the heartland of London's culture since it houses world famous National History Museum, Albert Museum and Victoria Museum. At the Exhibition Road Show, the Royal Boroughs of Chelsea and Kensington would organize a free festival of art and science on the newly refurbished Exhibition Road. It is a great opportunity to explore the arts for which London is acclaimed across the world. The event will also include scientific experiments, parades, musical and dance performances, marching bands and demonstration of skills by cyclists. The Exhibition Road Show in scheduled for July 28 to August 5 and The Kensington Townhouse is an ideal staying place since you can reach the venue very quickly by taking a train for South Kensington underground railway station.
Hotel: Hyde Park Premier London Paddington
Event: London 2012 Festival
Situated at the busy Paddington area and overlooking the picturesque Hyde Park, Hyde Park Premier London Paddington is a London premier hotel and offers the most luxurious accommodation and convenience. But this July, the hotel is an ideal accommodation option for you for a different reason. The hotel offers a very easy access to the Trafalgar Square where London 2012 Festival is offering visitors with a carnival charm. London 2012 Festival has started from June 21 and would continue till September 9. The event features varieties of exciting events that would be running alongside the Olympics and Paralympics. The events will include dance performances by troops, concerts, exhibitions and concerts and would be participated by a number of popular artistes from each field. Extraordinary performance and demonstration of skills and talents has already made London 2012 Festival a great artistic festival which you would surely enjoy if there is passion for art and culture is in you. The easiest way to reach Trafalgar Square from Hyde Park Premier London Paddington is to take a train for Charring Cross from Paddington underground railway terminus.
Hotel: Shaftesbury Paddington Court Hotel and Suites
Event: London 2012 Olympic Games
A gorgeous and luxurious property standing right in the heart of Paddington, Shaftesbury Paddington Court Hotel and Suites is the perfect place to stay in London in between July 27 and August 12 since the hotel will be offering smooth and fast accesses to all the Olympic Games Venues, thanks to the Paddington underground railway terminus which is just a few steps away from the property.