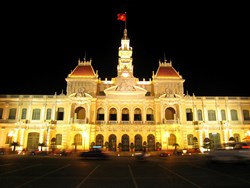 There are many attractive options for tourists if they book tours in Ho Chi Minh City
(PRWEB) August 02, 2012
Understanding the fact that there are more and more foreigners who would like to visit Ho Chi Minh City, Viet Smile Travel gives the importance to tours in Ho Chi Minh City. In the recent time, it has just launched a special promotion program, which offers a discount of 30% for most tours in this beautiful country. Booking tours here, tourists will take chances to discover one of the most wonderful city in Asia.
Ho Chi Minh City is becoming the attractive destination of numerous tourists all over the world. This season, it expects to see a growing number of foreign travelers. Coming there, tourists will have chances to experience unforgettable memories.
Once closely named Diamond of the Far-East, Ho Chi Minh City is now the most populated city in Vietnam. With modern office skyscrapers, ancient Chinese style pagodas, and food street vendors, Ho Chi Minh City Travel itself makes the own sense. Being the perfect conciliation between Western and Eastern architecture and lifestyle, it not only has the luxury level overriding that of Hong Kong or Bangkok but also remains Vietnamese traits from thousands of years.
Ho Chi Minh City, also called Sai Gon, is widely known as Vietnam at its most dizzying. Indeed, it acts as a high-octane city of commerce and culture that owns a limitless energy. Traveling to Sai Gon, tourists can easily find the finest hotels or magnificent buildings. Or else, they can enjoy traditional markets right in the center of the city. Sticking around this conundrum, tourists have opportunities to unveil a variety of the city's mysteries.
There is nothing greater than a trip on a cyclo around the city. Tourists can sit and enjoy the sights, smells, and sounds in the slow pace of the cyclo. Ho Chi Minh City, also, retains connections to the past. It is that Cho Lon and Sai Gon's China town owns dozens of elegant temples and pagodas. They bring the legend of Vietnam War in struggling for independence and freedom. Today, the city's core is still adorned with wide elegant boulevards and historic French colonial buildings. It is sure that tourists can't help being excited when visiting Reunification Palace, Ben Thanh Market, or Cu Chi Tunnels.
Furthermore, many tourists really fall in love with shopping in the city. As corny as it sounds, Sai Gon is the paradise for shoppers. Beautiful handicrafts and awesome souvenirs are always in endless supply. Especially, coming here, visitors will have chances to enjoy the best cups of coffee ever as Vietnam coffee is among the best in the world.
Tours in Ho Chi Minh City is available for help with great service but cheap price. Only with $65 - $100, tourists can enjoy a full day of exciting experiences with Mekong River Cruise in Cai Be Floating Market. Besides, there are many attractive options for tourists if they book tours in Ho Chi Minh City. For more details on routes, cost, and time, customers can see on the website of Smile Travel Vietnam.