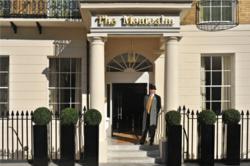 London, United Kingdom (PRWEB UK) 4 August 2012
Majority of deluxe properties in London are offering bountiful of special privileges and pampering extras to mark the special occasion and to woo more guests. Situated adjacent to the milk white Marble Arch, one of the iconic landmarks and tourist attractions in London, The Montcalm London Marble Arch is a luxurious property and it too has joined the festival bandwagon. Apart from luxurious accommodation and a host of modern amenities that ensure absolute comfort and convenient for the guests, The Montcalm London Marble Arch is offering a list of special privileges.
By booking one or required number of room at The Montcalm London Marble Arch, you can now enjoy special services in the following areas:

Champagne Afternoon Tea, a special beverage served at The Montcalm London Marble Arch is now available for two persons at the price for one person, which means you are enjoying a discount of 50 percent on the service. The original price of Champagne Afternoon Tea for one person is £36.50 but now you can get two cups at that rate. This offer will be valid till the end of August.
The Grill, the on-site restaurant at the Montcalm London Marble Arch now offers new A la carte Summer menu and Market Menu to provide the gastronomists some extra delight. There are multiple options in the Market menu to choose from. You can select from two courses for £15, three courses for £20, three courses with a glass of wine for £25 and three courses with a glass of champagne and a cup of coffee for £30.
Executive chef of The Grill, Andy Ives is happy to introduce and serve a host of seasonal A la carte Summer Menu and a brand new Market Menu. The new Summer Menu includes varieties of aperitif, starters, main course dishes and a large selection of mouthwatering desserts. Starters include exciting dishes like rosemary goat's cheese mousse with dark rye biscuit, onion petals, pecorina, tomatoes and rosemary tuille. Scottish salmon with Parloude clam chowde and parsley pesto is another preparation to be liked by everybody. The Grill serves guests From 12 pm to 11 at night from Monday to Saturday and from 12 pm to 10 at night on Sunday.
The elegantly appointed Montcalm Spa, which is acclaimed for its tranquil ambience and excellent body and beauty treatment services by experienced professionals, is now offering special spa promotional packages.
You can now book a session for lime and Ginger Salt Glow, which is to be followed by one hour Elemis (facial) session for £75. Original charge for the same service is £95 which means you are enjoying a discount of £20.
You may also opt for one hour Modern Skin Facial (Elemis) session which is now being offered by The Montcalm Spa at a price of £69. Original charge for the same treatment is £90, which means you are getting a rebate of £21.
Note: The Spa Promotional Packages are valid only for the original guests of the hotel and not for them who are being shifted to the property by other hotels due to unavailability of accommodations. You must also remember that these offers are not for conjugating with any other offer and are strictly subject to availability.
To book a spa session, you can call the Montcalm Spa desk at +44 (0)20 7958 3200 or send e mail at : spa(at)montcalm(dot)co.uk.
Other than these promotional packages you can enjoy complimentary access to the luxurious and elegant Club Lounge of The Montcalm London Marble Arch, by choosing to stay at Club Room or a room of higher category.
Complimentary unlimited Wi-Fi internet access throughout the building is now being offered by the hotel.
You can also enjoy mouthwatering complimentary English breakfast by booking rooms directly through the central reservation desk of the hotel or by doing online booking through its official website. To contact the reservation desk you can call at +44 (0) 20 7958 3200 and for online booking, you can log on to: http://ww.montcalm.co.uk. You may also enquire about room availability by sending e mail at info(at)montcalm(dot)co.uk.