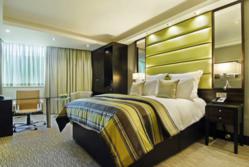 London, United Kingdom (PRWEB UK) 4 August 2012
The Marble Arch by Montcalm London, one of the most acclaimed deluxe accommodation properties in London's prestigious West End is now making a bid to offer its guests some extra privileges to make staying more enjoyable during the days of Olympics. Sports lovers are making their way to London from all parts of the world and hotels in London are offering varieties of lucrative packages to woo them. The Marble Arch by Montcalm London is joining the bandwagon with its offerings.
By choosing to stay at the Marble Arch by Montcalm London this July you can enjoy the following privileges along with a superbly comfortable accommodation and a host of luxurious amenities and services:
Afternoon Tea Special Offer: The Marble Arch by Montcalm London is offering a cut of 50 percent on the price of its special Champagne Afternoon Tea. It now costs £36.50 for two persons, a price set for one person.
New A la Carte Menu: The Grill, the in house restaurant of The Marble Arch by Montcalm London now offers its guests to taste new A la carte Summer and Market Menu, which is a matter of great delight for the gastronomists.
Spa promotions: The Montcalm Spa, on-site spa of The Marble Arch by Montcalm London now offers some exciting spa packages to its guests.
Lime and Ginger Salt Glow with an Elemis Facial, which originally costs £95.00 is now available at a price of £75.00
Modern Skin Facial (Elemis) for one hour is now priced at £69. Original cost for the same is £90.
All the offers mentioned are valid only valid for original guests of The Marble Arch by Montcalm London and not for guests who are being accommodated by other hotels due to unavailability of rooms. The offers are also not subject to conjugation with any other offer and more importantly, they are subject to availability. For booking a spa session, call +44 (0)20 7958 3200 or send mail at email spa(at)montcalm(dot)co.uk.
Other than these you can enjoy some pampering extras such as:
Complimentary access to the Club Lounge: Guests choosing to stay at the Club Rooms and rooms of higher categories can enjoy complimentary access to the luxurious Club Lounge, positioned just opposite to the Marble Arch by Montcalm London. The on-site restaurant and spa are also accessible through the same route.
Complimentary Wi-Fi: Guests can enjoy complimentary and unlimited Wi-Fi internet access throughout the property including rooms of all categories.
Complimentary breakfast: Guests, who book rooms either through the central reservation desk of the hotel or its official website, can now enjoy mouthwatering breakfast sitting at room. To book a room through the central reservation desk you can call at +44 (0) 20 7258 0777 and to book online you can log on to http://www.themarblearchlondon.co.uk. you may also enquire about availability of rooms and reservation by sending e mail at info(at)montcalm(dot)co.uk
Staying at the Marble Arch by Montcalm London is a true pleasure since the accommodation property has been accredited 5 Star Accommodation by the AA
The Marble Arch by Montcalm London would be a perfect accommodation option in London during the Olympics since it will be offering sports lovers a golden opportunity to sit back and enjoy live actions along with some refreshing cocktails at the Montcalm Bar. The bar's signature cocktail-Montcalm Daisy made with Grey Goose Vodka and punched with orange, lemon and grenadine would be served. To book a place in the bar which would witness a huge rush during Games days, you can call at 0207 958 3200
Olympics 2012 will open on July 27 with a vibrant and booming Opening Ceremony Celebration which will feature some electrifying musical performance by popular group and artists and the Closing Ceremony Celebrations on August 12 will be even better. So this July London is offering a double bonanza to its visitors and by choosing to stay at The Marble Arch by Montcalm London you can make it triple with the last being a plethora of privileges and pampering extras.