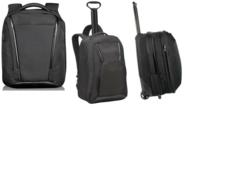 Tumi holds more than 25 patents for its design and engineering breakthroughs
Kent (PRWEB UK) 2 August 2012
The name of the brand is taken from a Peruvian god and Tumi's soft, ultra-functional, black-on-black ballistic nylon travel bags gives Tumi its credentials on the leadership board of modern design and unparalleled performance bags. The manufacturers take pride in every small aspect of design and this is what makes the Tumi bags like no other in that the products are made from hundreds of custom-designed and engineered parts.
Paul Steadman, Managing Director at Luggage Superstore says that: "The Tumi manufacturers continually look at the wants, needs and styles of individuals and put that right back into the craftsmanship of their luggage."Tumi is a true international brand available at leading department stores and online stores like Luggage Superstore.
Tumi holds more than 25 patents for its design and engineering breakthroughs. There is a metal plate with a unique 20-digit registration number in each of its bags. Customers can register for the Tumi Tracer program to have their contact information entered into a central database so they can be reunited with their bag if it is found. Tumi offers a 5 year warranty on its luggage and a 2 year warranty on Handbags, Wallets and Accessories
Luggagesuperstore established site is in West Kingsdown, Kent. Their aim is providing competitive prices of the highest quality luggage and top calibre Customer Service for online luggage shopping.
Trina Chee-a-kwai
Luggage Superstore
01474 854666
Email information