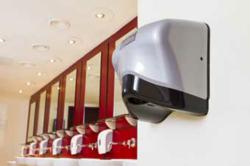 "We chose the Vortex 550 because it's a very clever design that uses 80% less electricity than our current Hand Dryers"
London (PRWEB UK) 2 August 2012
SAVORTEX announce a new contract and anticipate saving Skandia £7,722 in the first year alone.
Peter Bridge Royal Skandia Life Assurance Limited said "We chose the Vortex 550 because it's a very clever design that uses 80% less electricity than our current Hand Dryers. Electricity costs are a significant part of our annual expenditure, which we are committed to reducing. Units like the Vortex 550 Hand Dryer, will go a long way towards an intelligent solution to reducing these costs, and the consequential reduction in our Carbon Footprint."
He added "Skandia were using more electricity than they needed to, and were spending more on cleaning their washrooms, due to out of date dryers and paper towels. We anticipate worthwhile savings, switching to the SAVORTEX unit, including a significant reduction in Janitorial consumables. This coupled with the savings in electricity, makes this product very attractive. With 25 dryers installed, we anticipate our electricity bill will be reduced by £722 this year by simply switching to the Vortex dryers and a further £7,000 per annum will be saved by not using paper towels"
Customer research conducted by SAVORTEX found that peace of mind and confidence in the durability and life cycle of a hand dryer is a critical factor to many Facilities Managers. The Vortex 550 EcoSmart has achieved 2.4 million cycles –and SAVORTEX have extended its warranty from five years to a market leading seven.
About Skandia
Royal Skandia is the Isle of Man-based offshore arm of Skandia International. A leading life company in the offshore investment market, Royal Skandia offers a range of tax-efficient investment products aimed mainly at expatriates and international investors. http://www.skandiainternational.com
About SAVORTEX
The Guinness World Records title, Most hands dried using 30kJ of energy, was devised by Guinness World Records officials as a challenge to measure the energy efficiency in hand drying. The Vortex 550 EcoSmart successfully dried four pairs of hands using less than 30kJ of energy. Typically, hand dryers use between 72kJ and 96kJ of power to dry just one pair of hands. SAVORTEX successfully achieved four pairs of dry hands using just under 25kJ of energy – smashing the minimums set by Guinness World Records officials and claiming the world record.
Find us at http://www.savortex.com and follow us @Savortexuk
SAVORTEX – Sustainable smart drying for life
info(at)savortex(dot)com
SAVORTEX Ltd, One Canada Square, 29th Floor, Canary Wharf, London E14 6DY
T:+44 (0)207 956 8840